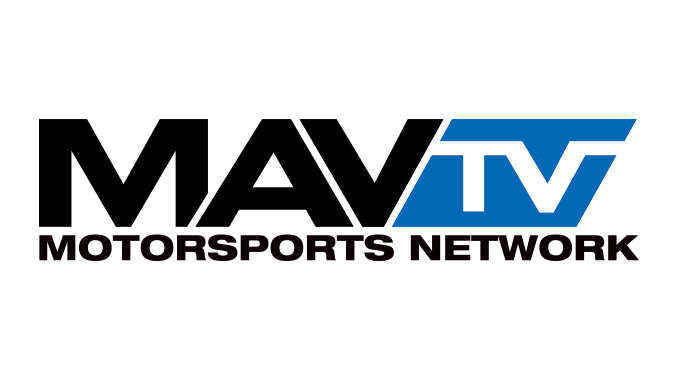 New Shows, Multiple New Seasons, and Special Programming Featured in Monthly Broadcast Schedule
CORONA, CA – April 1, 2021 – (Motor Sports NewsWire) – This April, the MAVTV Motorsports Network broadcast schedule will kick off with a new season of the Lucas Oil Late Model Dirt Series at 9 pm ET/PT on April 8. As the broadcast home for the Lucas Oil Late Model Dirt Series, fans can watch additional telecasts of these cutting-edge, 800-horsepower racecars battle for victory every Thursday night in April.
Trackside, a half-hour show featuring highlights from some of the best motorsports series, tracks and races across the United Kingdom, premieres on the Motorsports Network on April 2 at 8 am ET. Following Trackside's debut comes Legends Cars National Championship's premiere on April 2 at 10 am ET. Excitement is the name of the game for the Legends Cars National Championship, as racecar bodies are all 5/8 replicas of classic American cars from the '30s and '40s.
Every Sunday in April, beginning April 4, MAVTV will run a special marathon of the Winter Heat Series on NASCAR Heat 5 that features all four episodes. The first telecast is scheduled to hit TV screens at 9:30 pm ET.
The British GT Championship debut on MAVTV kicks off April 5 at 8 am ET with a telecast of the championship's opening round from Oulton Park. Also debuting this month is the Andros Trophy Series on April 6 at 8 am ET. The Andros Trophy is the premier ice racing series in the world, featuring cars, bikes and electric vehicles.
Telecasts of the British Touring Car Championship air on MAVTV beginning April 7 at 8 am ET. The British Touring Car Championship is the world's longest-running and pre-eminent touring car series held each year around the United Kingdom.
A new season of Stacey David's GearZ premieres on April 9 at 12 pm ET. From vehicle transformations to trend-setting custom builds, this high octane show features all things mechanical and is designed to appeal to the gearhead in us all.
MAVTV is now available to more viewers than ever before. With a total of 220 providers across cable, satellite, telco, and digital broadcast platforms, including AT&T U-verse, Charter/Spectrum, DIRECTV, Fios by Verizon, FuboTV, Youtube TV, Mediacom, and many more, the country's premier motorsports network is seen in more than 30-million households.
Race fans who don't have MAVTV should contact their local cable, satellite, or other subscription service provider to get details on how to add it to their channel lineup. A full list of providers, shows, and scheduled broadcasts can be found by visiting www.MAVTV.com.
MAVTV Broadcast Schedule:
| | | | |
| --- | --- | --- | --- |
| Date | Series | Event / Venue | Time (ET) |
| April 2 | Trackside | | 8:00 am |
| April 2 | Legends Cars National Championship | | 10:00 am |
| April 4 | Winter Heat Series on NASCAR Heat 5 (Sunday Marathon) | | 9:30 pm |
| April 5 | British GT Championship | | 8:00 am |
| April  6 | Andros Trophy Series | | 8:00 am |
| April 7 | British Touring Car Championship | | 8:00 am |
| April 8 | Lucas Oil Late Model Dirt Series | | 9:00  pm* |
| April 9 | Stacey David's GearZ | | 12:00 pm |
| April 11 | Winter Heat Series on NASCAR Heat 5 (Sunday Marathon) | | 9:30 pm |
| April 18 | Winter Heat Series on NASCAR Heat 5 (Sunday Marathon) | | 9:30 pm |
| April 25 | Winter Heat Series on NASCAR Heat 5 (Sunday Marathon) | | 9:30 pm |
* Indicates eastern and pacific time zone
LIVE event broadcast schedule is available at https://www.mavtv.com/shows/#live-events
About MAVTV
MAVTV Motorsports Network is the only television network in the U.S. dedicated exclusively to motorsports. MAVTV offers an unparalleled line-up of exclusive and unique events. MAVTV goes beyond the national mainstream motorsports events to include grassroots racing from across the globe: drag racing, pro motocross, sprint boats, rally cars, short course off-road truck racing, sprint cars, pro pulling, drifting, ice racing, and everything in between. MAVTV knows you don't have to be a race fan to be an automotive enthusiast, which is why we have developed a package of automotive reality and custom build shows that are truly second-to-none. From 24/7 automotive and motorsports content on MAVTV Motorsports Network to the free and exclusive content available on MAVTV Select and the on-demand streaming service of MAVTV Plus, if it has a motor, it's probably on MAVTV – The Motorsports Network!
Never miss your favorite show/race! Set your reminder now: https://lucasoil.roktcalendar.com/
Source: Lucas Oil Products, Inc.

####