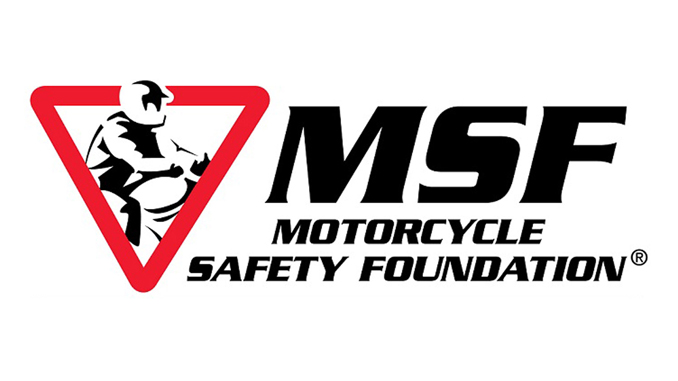 Professional Development During
Motorcycle Safety Awareness Month
IRVINE, CA – May 12, 2020 – (Motor Sports NewsWire) – With a quick shift to virtual, online gatherings starting last month, the Motorcycle Safety Foundation training community hasn't let up on its collective effort to give students the best possible coaching, while most sites and ranges work toward eventual reopening. The MSF's Virtual Rider Education Training System Webinars are in their sixth week of operation, and 11 weekday and two Saturday sessions have seen more than 5,000 log-ins to see and hear Dr. Ray Ochs, MSF vice president of training systems.
"A great way to keep RiderCoaches engaged while we cannot actually go out and coach at this time," said Debra Finlayson, an MSF RiderCoach Trainer in Connecticut.
"Hearing Dr. Ray provide context to some of the principles is outstanding," said Mark Parco, another MSF RiderCoach Trainer, from Florida. "Extremely beneficial to coaches at all levels."
Dr. Ray Ochs addresses a webinar audience. The MSF vRETS workshops can reach
up to 500 training professionals per session.
Webinar log-ins have come from Alaska, Hawaii, Puerto Rico, and even Jordan, in the Middle East. Ochs says he has been impressed by the interest to know more, by the number of questions on specific topics, by how much care is demonstrated by many RiderCoaches seeking to gain clarity on the finer points of range exercises and more.
"It's humbling to see how much the MSF team is appreciated," Ochs said. "I've enjoyed these vRETS webinars myself as they put fundamental, solid information out there to our RiderCoaches everywhere. I especially enjoyed covering what it means to be a level four RiderCoach, where I could let the material stretch out, and encourage the kind of professional development that will truly benefit our students."
While Ochs likes the ease with which RiderCoach questions can be answered through the video conferencing webinars, he does miss live interactions and feels the platform leads to more lecturing on his part than he would like. That's counter to his and the MSF's long-time use and promotion of student-centered learning that engages participants, asks questions of them, improves understanding, and helps produce longer-lasting insights. Though he envisions ways to improve the webinar series, Ochs said he feels the sessions are exactly what are needed right now.
And vRETS is slated to continue, even past pandemic times, according to Rob Gladden, MSF vice president of training operations. Future webinars will continue through the MSF RiderCoach Guide, particularly Level II classroom and Tab V. Ochs will address topics usually covered during live, in-person rRETS events, as well as content in other RiderCourses such as the BRC2, ARC, CRC, Bike Bonding, and QAS Certification Courses. Ochs said that he will use some of the IRETS topics he's addressed in the past, diving into historical perspectives or quotes from safety literature. He may do a segment on crash statistics and/or research, and he may even have some guests appearing on the webinar series.
The next MSF vRETS is slated for this Thursday. The webinar regularly goes live on Tuesdays and Thursdays at 12:30pm Eastern time, and there may be more special Saturday sessions in the weeks ahead.
About Motorcycle Safety Foundation
The Motorcycle Safety Foundation promotes safety through rider training and education, operator licensing tests, and public information programs. The MSF works with the federal government, state agencies, the military, and others to offer training for all skill levels so riders can enjoy a lifetime of safe, responsible motorcycling. Standards established by the MSF have been recognized worldwide since 1973.
The MSF is a not-for-profit organization endorsed by American Honda Motor Co., Inc.; BMW Motorrad USA; BRP, Inc.; Harley-Davidson Motor Company, Inc.; Indian Motorcycle; Kawasaki Motors Corp., U.S.A.; KTM North America, Inc.; Suzuki Motor of America, Inc.; Triumph Motorcycles America; and Yamaha Motor Corporation, U.S.A. For safety information or to enroll in an MSF Basic RiderCourse near you, or to learn more about the many other MSF course offerings, visit MSF-USA.org or call (800) 446-9227.
Source: Motorcycle Safety Foundation

####