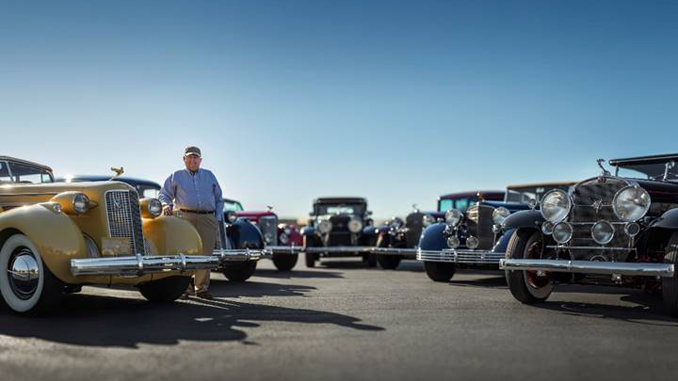 OFFERED ENTIRELY WITHOUT RESERVE
CONSIGNMENTS NOW OPEN FOR 16-17 JANUARY AUCTION AT ARIZONA BILTMORE
RM Sotheby's reveals early entries for 2020 Arizona sale, led by seven Cadillac V-16 variants from the respected Collection of John D. Groendyke
The seven cars span the body styles from a rare, genuine Sport Phaeton to an original, unrestored Seven-Passenger Imperial Sedan, offered entirely without reserve
Two-day auction at the Arizona Biltmore to feature more than 150 blue-chip motor cars and memorabilia
Updated list of entries and additional information on the Arizona auction available at rmsothebys.com
BLENHEIM, ONTARIO, CANADA – November 5, 2019 – (Motor Sports NewsWire) –  RM Sotheby's has announced the first feature entries for the company's annual Arizona sale, set for 16-17 January, and is honored to present seven Cadillac V-16 variants from the well-respected collection of John D. Groendyke, offered entirely without reserve.
John D. Groendyke, of Enid, Oklahoma, is a renowned name in the collector car hobby and has been a long-time friend and client of RM Sotheby's. A passionate collector since the early 1990s, Mr. Groendyke has owned some of the greatest American and European classics over the years, and over the last decade, John has built a collection of the most significant Cadillac V-16 body styles and model years, amassing 17 in total.
Mr. Groendyke is a gentleman collector known for his well-maintained cars. He has collected the best available examples and spares no expense to ensure they function the way they're meant to, often driving his cars and using them on tours as much as on the show field. He is also a well-known competitor on the concours circuit, winning numerous awards at Pebble Beach, Amelia Island, Concours of America, and other events around the country. He has thoroughly enjoyed his collection of Cadillac V-16s and is now ready to pass along a portion of it to other enthusiastic collectors.
The Cadillac V-16 was an engineering tour de force as the first production automobile equipped with a V-16 engine, during a time when even V-8s were exclusive to luxury manufacturers. Cadillac's V-16 engine was essentially two engines in one, sharing a crankcase and crankshaft, first developing 160bhp, eventually rising to 185bhp and with torque aplenty at 300 foot-pounds at idle. Engineering prowess aside, the engine is also aesthetically a work of art, said to be the first production car powerplant that was truly styled, with sleek design and minimal clutter. To clothe the engine and adorn the whopping 148-inch wheelbase, which would grow to 154 inches by 1934, buyers had 54 body styles to choose from, from roadster to town car, all from Cadillac's in-house coachbuilder, Fleetwood, and seven of which are represented in Mr. Groendyke's Collection.
The selection of seven cars from the Groendyke Collection is led by a 1930 Cadillac V-16 Sport Phaeton by Fleetwood. This genuine, exceptional example is restored in striking colors and is fully matching numbers complete with its original chassis, engine, axles, coachwork, and beyond. The Sport Phaeton was formerly owned for three decades by CCCA member Walden J. Schmitz, who purchased it from the estate of its original owner in the early 1960s. Schmitz restored the car and took it to CCCA meets through the early 1970s, after which he put it in his living room, until it was sold from his estate in 1998. The car has had a believed four private owners over the course of its nearly 90-year life (Est. $900,000 – $1,200,000). The Sport Phaeton is joined by a 1935 Cadillac V-16 Imperial Convertible Sedan by Fleetwood, formerly of the Richard Gold, Dr. Barbara Atwood, and Andrews Collections, wearing a well-maintained restoration by Steve Babinsky (Est. $600,000 – $750,000).
"We are honored to offer John Groendyke's Cadillac V-16s in Arizona, which are impeccably maintained by him and his team," said Gord Duff, Global Head of Auctions, RM Sotheby's. "We've seen significant bidder interest in quality Cadillac V-16 examples over the last few years and just weeks ago, at our annual Hershey sale, another Sport Phaeton—the sister car to Groendyke's example—took top billing, surpassing its pre-sale estimate. John is one of the true great collectors in this hobby and it has been a genuine pleasure to work with him over the last several decades. We're now looking forward to bringing these V-16s to a market where great American Classics are thriving."
Additional cars offered from the collection include:
A 1933 Cadillac V-16 All-Weather Phaeton, restored with a correct Fleetwood body and formerly of the Fred Weber and Aaron Weiss collections (Est. $300,000 – $350,000);
A 1936 Cadillac V-16 Town Sedan by Fleetwood, the sole survivor in this style, sporting a well-preserved restoration by Fran Roxas and formerly of the noted William Ruger, Jr. Collection (Est. $250,000 – $300,000);
A 1939 Cadillac V-16 Convertible Coupe by Fleetwood, a very rare second-generation V-16, one of just seven built and formerly in the long-term ownership of Bob Hannay (Est. $225,000 – $275,000);
A 1931 Cadillac V-16 Seven-Passenger Imperial Sedan by Fleetwood, among the finest original, unrestored V-16s, beautifully preserved and with known history from new. The Imperial Sedan was formerly owned by noted restorer "Cadillac Jim" Pearson (Est. $100,000 – $150,000); and,
A 1932 Cadillac V-16 Five-Passenger Sedan by Fleetwood, beautifully restored in the original color of Viceroy Maroon and an ideal CARavan and tour automobile (Est. $175,000 – $225,000).
A long-established event, kicking off the collector car auction calendar each year, RM Sotheby's 2020 Arizona sale is set to present more than 150 blue-chip motor cars spanning the spectrum of the market alongside a selection of memorabilia, hand-picked by the company's expert team of nearly 30 car specialists.
For more information on RM Sotheby's Arizona auction, please visit rmsothebys.com. To speak with a car specialist about entering your important car in this sale, please call RM Sotheby's Blenheim Headquarters at +1 519 352 4575.
FOR MORE NEWS FROM RM SOTHEBY'S: #RMSothebys #RMArizona
Visit: rmsothebys.com
Instagram
Twitter
Facebook
YouTube
About RM Sotheby's
RM Sotheby's is the world's largest collector car auction house by total sales. With 40 years of proven results in the collector car industry, RM's vertically integrated range of services, from auctions and private sales to estate planning and financial services, coupled with an expert team of car specialists and an international footprint, provide an unsurpassed level of service to the global collector car market. RM Sotheby's is currently responsible for six of the top ten most valuable motor cars ever sold at auction. In February 2015, RM formed a strategic partnership with Sotheby's, uniting the two companies for the full calendar of future automobile auctions. For further information, visit rmsothebys.com.
Source: RM Sotheby's

####