CORONA, CA – September 5, 2019 – (Motor Sports NewsWire) –  Lucas Oil Products Inc., the globally renowned American-based manufacturer and distributor of additive and lubricant products, has announced a partnership with Love's Travel Stops & Country Stores to provide motorists and professional truck drivers with Lucas Oil's Cetane Power Booster. The diesel fuel supplement, which extends engine life and fuel economy, is now available at over 400 Love's Travel Stop locations nationwide.
"With their commitment to providing around-the-clock access to safe and convenient locations for motorists and truck drivers nationwide to purchase fuel and other vehicle necessities, it made complete sense for Lucas Oil to add the Cetane Power Booster to Love's Travel Stops shelves," said Shane Burns, VP of National Sales for Lucas Oil Products. "The summer heat adds unwanted stress to high-pressure motors, and our Cetane Power Booster adds much-needed cleaners and lubricants required for diesel fuel, making it an essential additive to keep diesel engines running like new."
When added to engine fuel, Lucas Oil Cetane Power Booster delivers the following benefits:
Cleaner exhaust, longer filter life, easy start-ups and smoother idle
Increased power, fuel economy and engine life
Reduced fuel wear by 27%
Maintained peaked performance
Essential cleaners and lubricants
Consumers can find their nearest Love's location by visiting the official company website and utilizing the Store Locator tool.
About Lucas Oil Products, Inc.
Lucas Oil Products was founded by Forrest and Charlotte Lucas with the simple philosophy of producing only the best line of lubricants and additives available anywhere. Since its inception, Lucas has steadfastly adhered to this corporate objective. Through innovative product research and development, along with aggressive marketing programs, Lucas has established itself as the top selling additive line in the United States. Additionally, Lucas Oil offers a premium line of motor oils, greases, fuel treatments, industrial lubricants, and problem solving additives to help firmly establish Lucas Oil as a prominent figure in the marketplace.
For more information, visit www.LucasOil.com and on Facebook at www.facebook.com/OfficialLucasOil
About Love's Travel Stops & Country Stores
Love's Travel Stops & Country Stores is the nation's industry-leading travel stop network with more than 490 locations in 41 states. Founded in 1964 and headquartered in Oklahoma City, the company remains family-owned and operated and employs more than 25,000 people. Love's provides professional truck drivers and motorists with 24-hour access to clean and safe places to purchase gasoline, diesel fuel, fresh coffee, restaurant offerings and more. Love's has more than 350 truck service centers, which include on-site and stand-alone Speedco and Love's Truck Tire Care locations. Love's and Speedco combined is the largest oil change, preventive maintenance and total truck care nationwide network. Love's is committed to providing customers with "Clean Places, Friendly Faces" at every stop. To learn more, visit loves.com.
Source: Lucas Oil Products, Inc.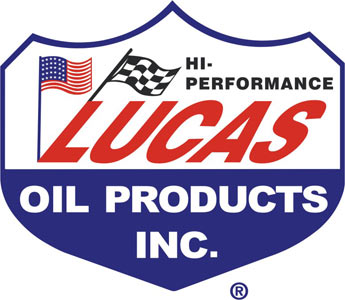 ####