WASHINGTON, D.C. – September 4, 2019 – (Motor Sports NewsWire) –
John Deere Recall Summery
Name of product: John Deere XUV835 Gator utility vehicles
Hazard: The plastic sheathing on the throttle cable can melt due to improper routing, causing the throttle to stick. This could result in the operator not being able to stop the vehicle, posing a crash hazard.
Remedy: Repair
Recall date: September 4, 2019
Units: About 19,730 (In addition, about 840 were sold in Canada)
Consumer Contact: Deere & Company at 800-537-8233 from 8 a.m. to 6 p.m. ET Monday through Friday and 9 a.m. to 3 p.m. ET on Saturday, or online at www.deere.com and click on "Recalls" on the drop-down menu under "Parts & Services" for more information.
John Deere Recall Details
In Conjunction With: Canada
Description: This recall involves John Deere Gator utility vehicles with model number "XUV835" printed on the hood. "John Deere" and "Gator" are printed on the cargo box. The serial number is located on the frame directly above right front tire and begins with 1M0835 and falls within the ranges on the chart below. The recalled utility vehicles were sold in green and yellow, olive drab and camouflage and have side-by-side seating for two or three people, depending on the seat option.
Serial Number Range
1M0835ExxxM010001 – 1M0835ExxxM020413
1M0835MxxxM010001 – 1M0835MxxxM022741
1M0835RxxxM010001 – 1M0835RxxxM023115
1M0835EAPMM560107
1M0835MECLM544103
1M0835MAPMM560108
1M0835RBCLM544102
1M0835RATMM560102
1M0835RAPMM560103
1M0835RAKMM560104
1M0835RAJMM560105
Remedy: Consumers should immediately stop using the recalled vehicles and contact an authorized John Deere dealer for a free inspection and repair of improperly routed throttle cables. John Deere is contacting all known purchasers directly.
Incidents/Injuries: John Deere has received reports of nine incidents. No injuries have been reported.
Sold At: John Deere dealers nationwide from November 2017 through July 2019 for between $13,860 and $22,930.
Manufacturer(s): Deere & Company, of Moline, Ill.
Manufactured In: U.S.
Recall number: 19-776
This recall was conducted, voluntarily by the company, under CPSC's Fast Track Recall process. Fast Track recalls are initiated by firms, who commit to work with CPSC to quickly announce the recall and remedy to protect consumers.
The U.S. Consumer Product Safety Commission is charged with protecting the public from unreasonable risks of injury or death associated with the use of thousands of types of consumer products under the agency's jurisdiction. Deaths, injuries, and property damage from consumer product incidents cost the nation more than $1 trillion annually. CPSC is committed to protecting consumers and families from products that pose a fire, electrical, chemical or mechanical hazard. CPSC's work to help ensure the safety of consumer products – such as toys, cribs, power tools, cigarette lighters and household chemicals -– contributed to a decline in the rate of deaths and injuries associated with consumer products over the past 40 years.
Federal law bars any person from selling products subject to a publicly-announced voluntary recall by a manufacturer or a mandatory recall ordered by the Commission.
Source: U.S. Consumer Product Safety Commission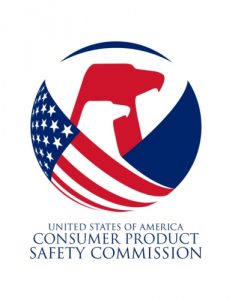 ####