70% of all 1,301 Offered Vehicles Hammer Sold at Four-Day Auction
WALWORTH, WI – August 8, 2019 – (Motor Sports NewsWire) – Mecum's recent auction in Harrisburg, Pennsylvania, held July 31-Aug. 3 at the Pennsylvania Farm Show Complex, saw overall sales totals exceed $31.1 million as more than 70% of all 1,301 offered vehicles hammered sold. The solid lineup of rare and desirable collector cars helped propel Harrisburg 2019 sales to a more than $7 million increase over 2018 for an astonishing 30% one-year growth in revenue.
Populated almost entirely by vehicles from the headlining Todd Werner Collection of vintage race cars, the top 10 sellers list includes a heavy concentration of iron from both Plymouth and Dodge. The highest-selling car proved to be the 1970 AHRA GT1 World Championship-winning 1970 Plymouth Hemi Cuda in its distinctive red, white and blue Sox & Martin livery (Lot S102), which sold for $429,000. The close runner-up was the 1971 NASCAR Grand National Championship Winner, the 1971 Plymouth Road Runner Richard Petty NASCAR (Lot S100), which collected a total of $412,500.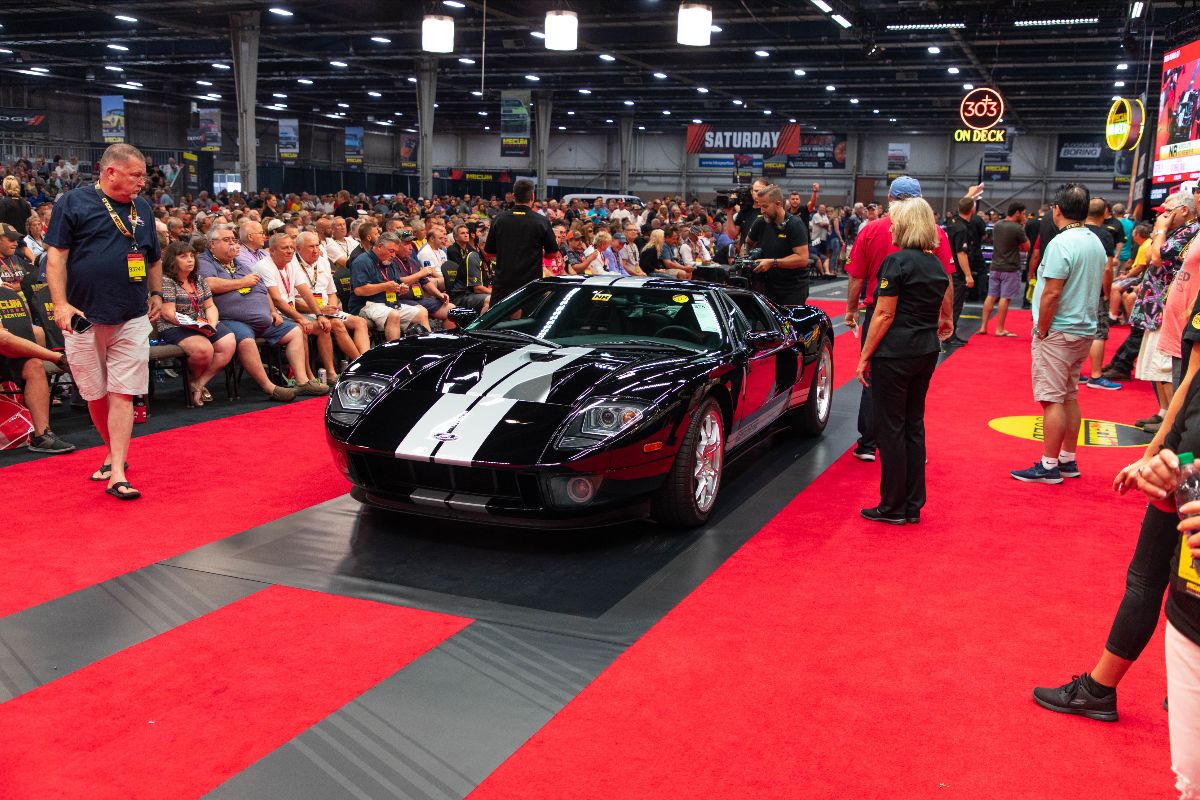 More than a dozen private collections were offered in Harrisburg, and all garnered lots of attention with sales to match. The Todd Werner Collection saw a full 95% of the 43-car collection hammer sold in Harrisburg, while The Skook Collection, The Jerry Lyndon Corvette Collection, The Champaign Auto Collection and the Special Early Bird Offering all achieved 100% sell-through rates and combined sales totals in the millions.
Highlighted by their six-figure sales and positions in the top 10, other significant vehicles to note include the modern, supercharged 2005 Ford GT (Lot S75.1) that brought $324,500 and a SAAC Concours Division-winning 1967 Shelby GT500 Fastback (Lot S93) that achieved a $275,000 sale.
Road Art offerings in Harrisburg were nearly as plentiful as the cars, and total sales of the more than 1,000 available items reached nearly $1.5 million. The Road Art segment sales were topped by a rare and desirable Wayne 491-F Greek Roman Column 5-gallon gas pump (Lot K53) restored in Polly Gas livery that sold for $29,500, followed closely by an 11-foot 1940s or '50s Ford Dealership double-sided porcelain sign (Lot K40) that brought $28,320.
1970 Plymouth Hemi Cuda Sox & Martin Drag Car (Lot S102) at $429,000
1971 Plymouth Road Runner Richard Petty NASCAR (Lost S100) at $412,500
2005 Ford GT (Lot S75.1) at $324,500
1967 Shelby GT500 Fastback (Lot S93) at $275,000
1969 Chevrolet Yenko Camaro (Lot S121) at $258,500
1965 Plymouth Belvedere A/FX Sox & Martin "Paper Tiger Too" (Lot S103) at $220,000
1968 Plymouth Barracuda B029 Sox & Martin "Boycott" (Lot S104) at $220,000
1964 Dodge 330 Hemi-Charger Dick Landy A/FX (Lot S109) at $220,000
1968 Dodge Dart LO23 Dick Landy Super Stock (Lot S110) at $220,000
1970 Plymouth Hemi Cuda (Lot S101) at $214,500
For access to complete auction results, sign up for the free InfoNet service offered at Mecum.com. Mecum's next auction will be The Daytime Auction in Monterey this Aug. 15-17. Featuring an estimated 600 classic and collector cars, the auction will be highlighted by the must-see collection of Dana and Patti and their 1954/1959 Ferrari 0432M; also presented will be several other celebrated collection offerings such as the Blackie Gejeian Estate assemblage and The Academy of Art University Collection. For more details on upcoming auctions, to consign a vehicle or to register as a bidder, visit Mecum.com, or call (262) 275-5050 for more information.
About Mecum Auctions
Nobody sells more than Mecum. Nobody. The Mecum Auction Company is the world leader of collector car, vintage and antique motorcycle, and Road Art sales, hosting auctions throughout the United States. The company has been specializing in the sale of collector cars for 30 years, now offering more than 20,000 lots per year and averaging more than one auction each month. Established by President Dana Mecum in 1988, Mecum Auctions remains a family-run company headquartered in Walworth, Wisconsin. For further information, visit Mecum.com or call (262) 275-5050. Follow along with Mecum's social media news and join us on Facebook,  Twitter, YouTube, Pinterest and Instagram.
Source: Mecum Auction, Inc.
####