WASHINGTON, D.C. – August 7, 2019 – (Motor Sports NewsWire) –
BRP Recall Summery
Name of product: 2017 Ski Doo MXZ, Summit and Renegade snowmobiles and 2018 MXZ and Renegade snowmobiles
Hazard: The vehicle's fuel delivery system can leak fuel, posing a fire hazard.
Remedy: Repair
Recall date: August 6, 2019
Units: About 14,600 (About 10,000 were previously recalled in May 2019)
Consumer Contact: BRP toll-free at 888-272-9222 from 8 a.m. to 8 p.m. ET Monday through Sunday or online at https://www.ski-doo.com and click on "Community" and then "Safety" for more information.
Recall Details
Description: This recall involves model year 2017 Ski-Doo MXZ, Summit, and Renegade snowmobiles and 2018 Ski-Doo MXZ and Renegade snowmobiles equipped with an 850 E-TEC engine. The vehicles are sold in a variety of colors. Ski-Doo and the model name are printed on the side panels of the vehicles. The vehicle identification number (VIN) is on the decal located on the right hand side of tunnel. The following models are included in the recall.
Models
Colors
                                                        2017 Ski-Doo Models
MXZ TNT 850 E-TEC
White/Black; Black
MXZ X 850 E-TEC
Black; Yellow
RENEGADE ADRENALINE 850 E-TEC
White/Black; Black
RENEGADE X 850 E-TEC
Black; Orange
SUMMIT SP 850 E-TEC
Yellow/Black
SUMMIT X 850 E-TEC
Black; Orange/White
                                                       2018 Ski-Doo Models
MXZ BLIZZARD 850 E-TEC
Black/Yellow
MXZ TNT 850 E-TEC
Black;White
MXZ X 850 E-TEC
Black;Black/Yellow,
MXZ XRS 850 E-TEC
Black;Silver/Yellow
RENEGADE  ADRENALINE 850 E-TEC
Black;White
RENEGADE BC 850 E-TEC
Black;White
RENEGADE BCX 850 E-TEC
Black;Black/Green
RENEGADE X 850 E-TEC
Black;Black/Green
RENEGADE XRS 850 E-TEC
Black;Black/Green;Silver/Green
Remedy: Consumers should immediately stop using the recalled vehicles and contact a BRP Snowmobile dealer for a free repair. BRP is contacting all known purchasers directly.
Incidents/Injuries: The firm has received two additional reports of fuel leaks bringing the total to 15. There are two reports of fires. No injuries have been reported.
Sold At: Ski-Doo dealers nationwide from June 2016 through July 2019 for between $12,000 and $16,000.
Importer(s): BRP U.S. Inc., of Sturtevant, Wis.
Manufactured In: Canada
Recall number: 19-766
This recall was conducted, voluntarily by the company, under CPSC's Fast Track Recall process. Fast Track recalls are initiated by firms, who commit to work with CPSC to quickly announce the recall and remedy to protect consumers.
The U.S. Consumer Product Safety Commission is charged with protecting the public from unreasonable risks of injury or death associated with the use of thousands of types of consumer products under the agency's jurisdiction. Deaths, injuries, and property damage from consumer product incidents cost the nation more than $1 trillion annually. CPSC is committed to protecting consumers and families from products that pose a fire, electrical, chemical or mechanical hazard. CPSC's work to help ensure the safety of consumer products – such as toys, cribs, power tools, cigarette lighters and household chemicals -– contributed to a decline in the rate of deaths and injuries associated with consumer products over the past 40 years.
Federal law bars any person from selling products subject to a publicly-announced voluntary recall by a manufacturer or a mandatory recall ordered by the Commission.
Source: U.S. Consumer Product Safety Commission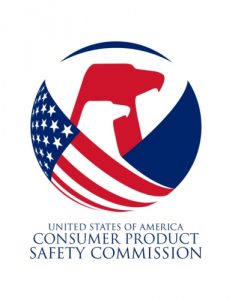 ####