AMA Youth Flat Track Racer of the Year, Vet/Senior Flat Track Racer of the Year and AMA Fast Brain Award winners also announced
PICKERINGTON, OH – July 31, 2019 – (Motor Sports NewsWire) –  The American Motorcyclist Association congratulates Trevor Brunner for winning the 2019 Nicky Hayden AMA Flat Track Horizon Award, which recognizes today's amateur flat track racer with the brightest prospects for a professional career.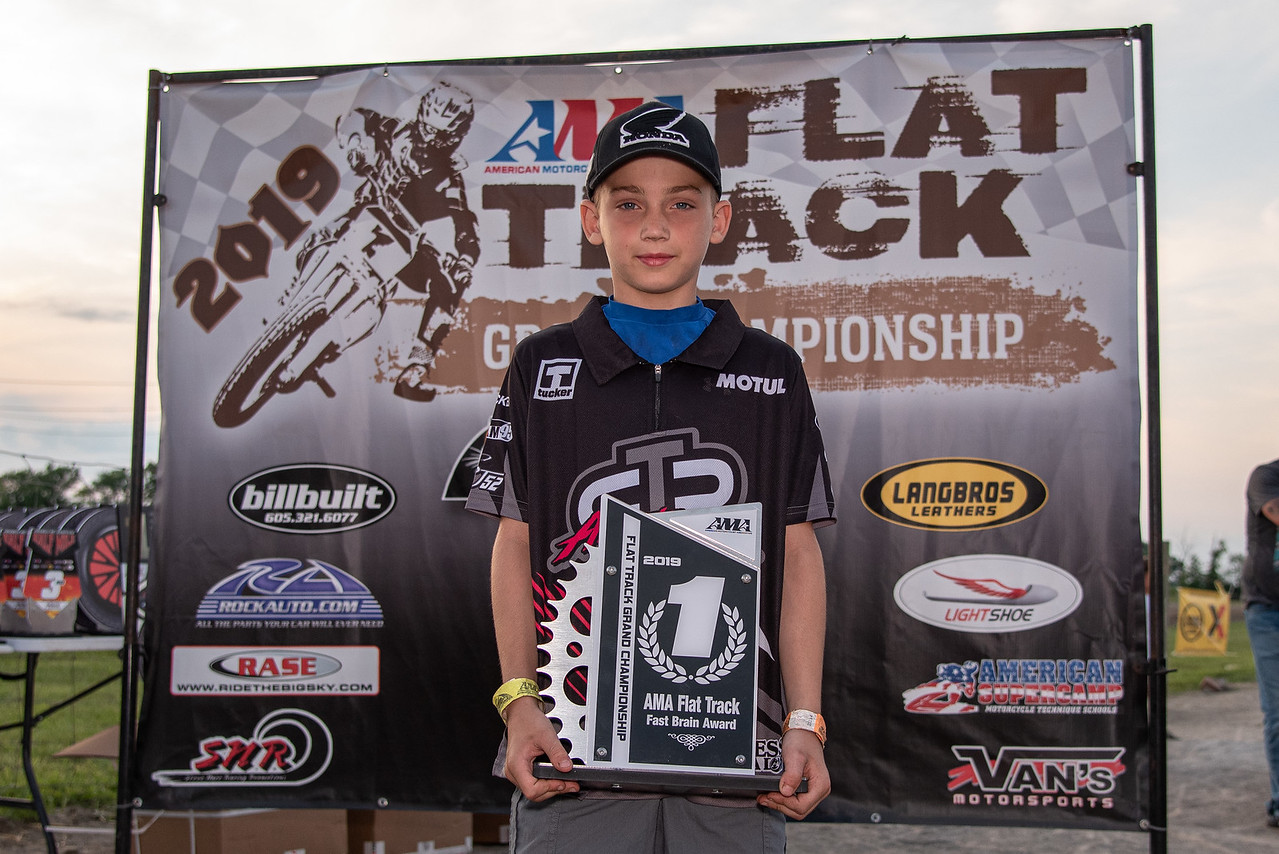 Travis Horn, of La Verne, Calif., was named the 2019 AMA Youth Flat Track Racer of the Year. He won the 85cc DTX (7-11) and 85cc Modified (7-11) class titles.
The Vet/Senior Flat Track Racer of the Year Award went to Rob Williams, of Holly, Mich., who took home top honors in the 50+ Super Senior Class.
Ryder Reese, of Elmira, N.Y., won the AMA Fast Brain Award, a $1,500 educational scholarship that benefits a young racer whose talent with the throttle is matched by aptitude in the classroom.
The riders received their awards at the conclusion of the 2019 AMA Flat Track Grand Championship at the Triangle Motorcycle Club in Harpster, Ohio. The amateur national flat track championship event featured four days of competition with more than 800 entries in three formats of flat track racing.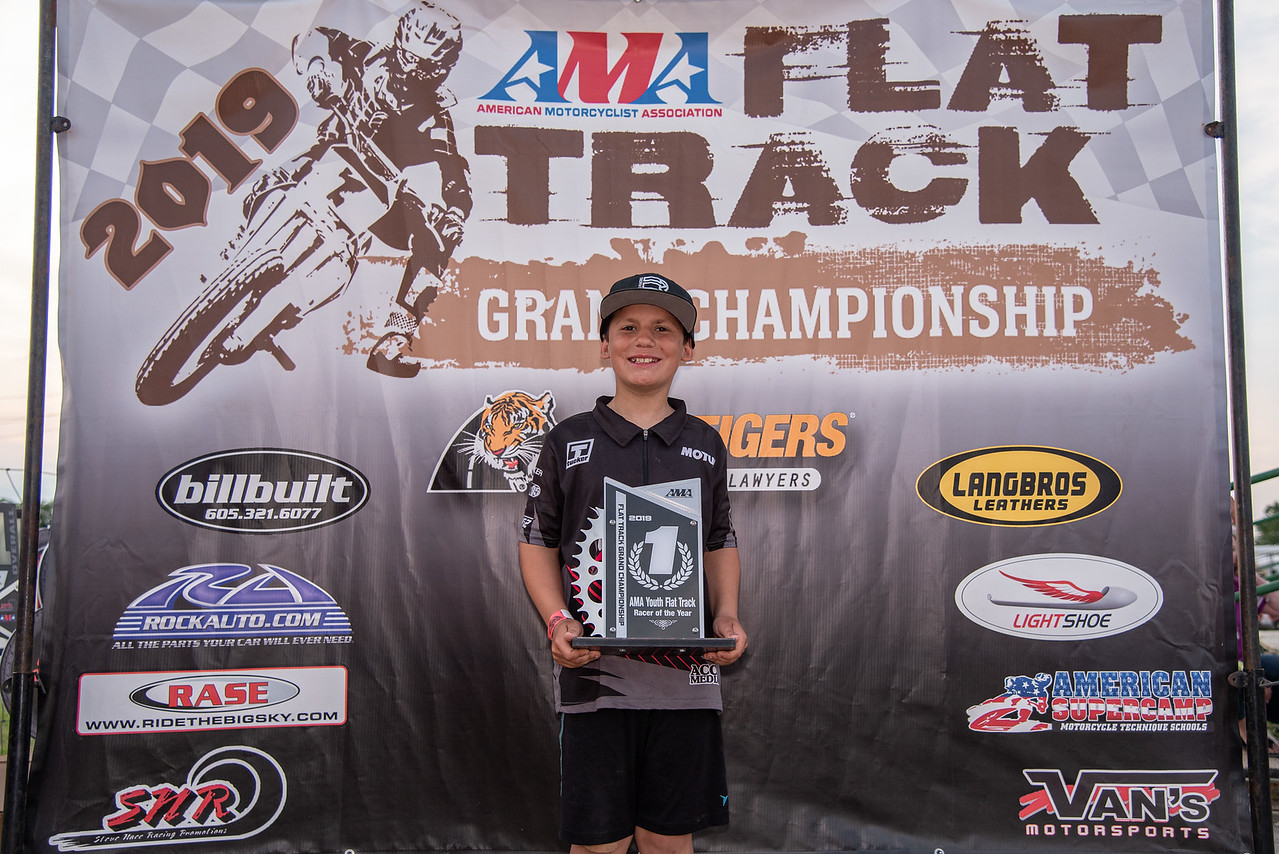 The annual grand championship took place at the Ashland County Fairgrounds in Ashland, Ohio, on July 23 and at the Triangle Motorcycle Club on July 24-26.
"Both Trevor and Ryder put in outstanding performances during this year's AMA Flat Track Grand Championship," AMA Track Racing Manager Ken Saillant said. "They demonstrated great determination and sportsmanship during the event, and we are happy to present them with the two highest awards in amateur flat track racing."
The Nicky Hayden AMA Flat Track Horizon Award honors the amateur racer who is poised for success at the professional level. The award is named after AMA Motorcycle Hall of Famer Nicky Hayden, who won the first AMA Horizon Award in 1997. Hayden died in 2017 after being hit by a car while training on a road bicycle.
Brunner, 16, of Aurora, Ind., was among 14 riders to win 21 class championships at the event. He won four AMA No. 1 plates and plans to make his pro flat track debut in 2020.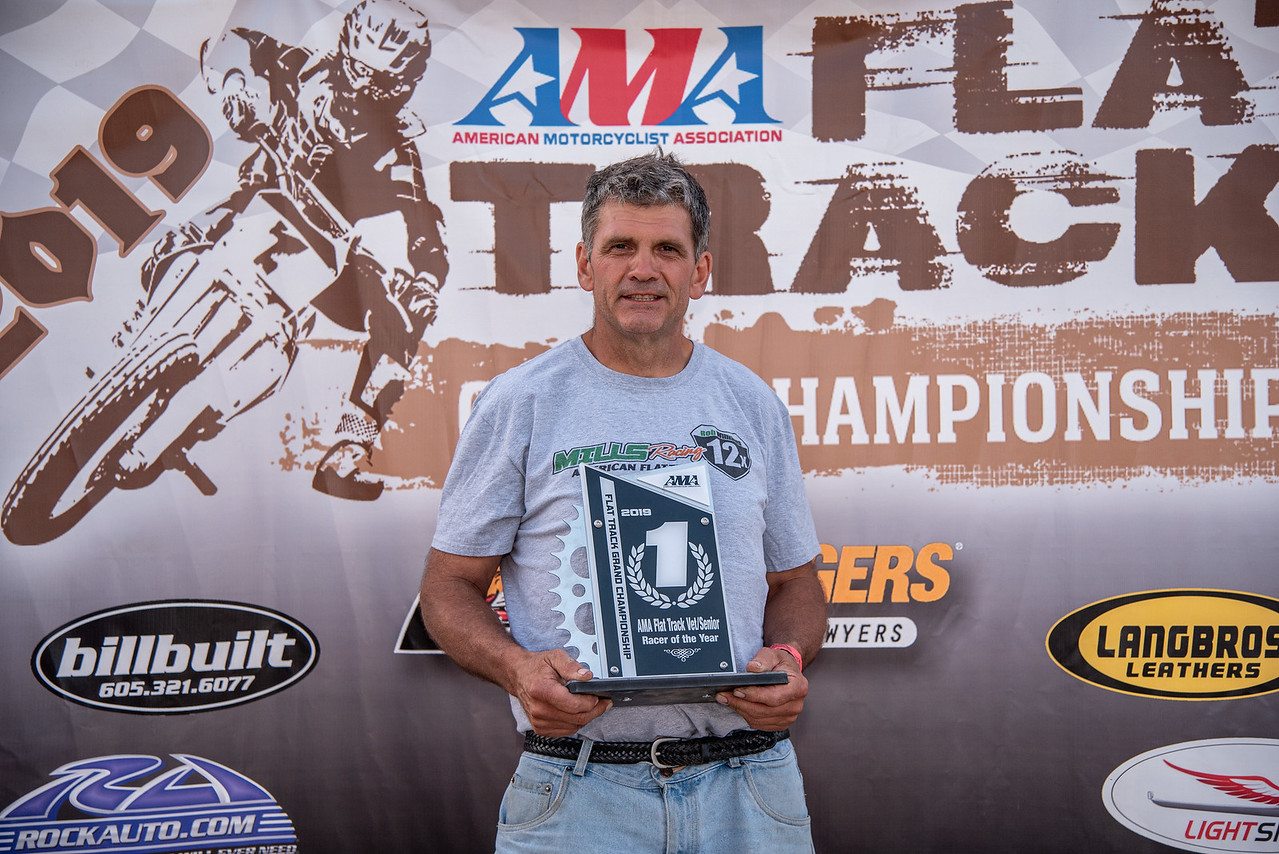 "My goals coming into this event were to stay consistent and keep my head on straight," Brunner said. "Nicky Hayden was an inspiration to us all with his character, on and off the bike. It's great to win this award and join the ranks of the riders I have looked up to."
Brunner's stepfather Tommy Hensler was delighted to see Brunner's hard work culminate in winning the award.
"He told me before we got here that he wanted to win four AMA No. 1 plates and the Horizon Award, and he went out and did it," Hensler said. "Trevor wasn't happy with how he did at this event in 2018 and made changes to his training and nutrition that really helped him this year."
Reese, 11, is a third-generation flat track racer who excelled in the classroom during the past year. While he performed well at nearly every subject in school, he said his favorite class is gym class. He was excited to get home and tell his friends about his award.
"He gets his homework done before he gets on his bike," Reese's father, Darryl Reese, said. "I'm so proud of how well he's done. His teachers have been great about giving him work to do when we travel to go racing, and he gets it all done."
The AMA thanks AMA Motorcycle Hall of Fame Legend Bill Werner, Zanotti Racing's Dave Zanotti and Estenson Racing's Tim Estenson for funding the AMA Fast Brain Award for 2019.
All the award winners will be honored during the AMA's Legends & Champions Weekend in Columbus, Ohio, Dec. 6-7
About the American Motorcyclist Association
Founded in 1924, the AMA is a not-for-profit member-based association whose mission is to promote the motorcycle lifestyle and protect the future of motorcycling. As the world's largest motorcycling rights and event sanctioning organization, the AMA advocates for riders' interests at all levels of government and sanctions thousands of competition and recreational events every year. The AMA also provides money-saving discounts on products and services for its members. Through the AMA Motorcycle Hall of Fame in Pickerington, Ohio, the AMA honors the heroes and heritage of motorcycling. For more information, visit www.americanmotorcyclist.com.
Not a member? Join the AMA today.
Source: American Motorcyclist Association
####