CORONA, CA – July 18, 2019 – (Motor Sports NewsWire) –  Over the span of just three decades, Lucas Oil Products Inc. has ascended to become one of the world's most recognizable brands. This July, the American-based manufacturer and distributor of additive and lubricant products celebrates 30 years as the preeminent producer of a diverse array of goods focused on extending the longevity of virtually any engine or piece of outdoor equipment.
Founded in the once booming Southern California agricultural epicenter of Corona in 1989, the company was a manifestation of the desire of its founder, Forrest Lucas, to find a way to keep the engine of his big rig running smoothly over long-haul truck drives in sweltering temperatures on highways across Arizona and the American southwest. Focused on solving his own dilemma, Lucas plotted the course for his own company by seeking to not only improve on the existing products in the marketplace, but also establish new categories that went beyond just heavy-duty trucks. The seed was planted to become the number one additive company in the world, and Lucas didn't relent until that goal was achieved.
In the years that followed, the company grew exponentially as Lucas quickly built upon the four core products that started it all – Heavy Duty Stabilizer, Fuel Treatment, Power Steering Stop Leak, and Transmission Fix. Shortly thereafter, Lucas Oil entered the marine industry and proceeded to introduce an outdoor/sportsman line before really making a name for itself in motorsports. Soon enough, the fledgling business that began with just four employees tirelessly working towards making their dream a reality had become a lubricant powerhouse, with 500 full-time employees. The global demand for Lucas Oil Products ultimately led to the opening of a state-of-the-art, 350,000-square-foot flagship distribution and production facility in the rural southern Indiana town of Corydon, just north of the Ohio River.
Today, Lucas Oil Products encompass the most diversified range of segments in the automotive, powersports, marine, industrial, outdoor, and motorsports marketplaces, many of which were created by Lucas himself. The company produces more than 300 premium oil products, which is the largest variety of shelf products of any oil company in the United States, and boasts distribution to 48 different countries. Under the roof of each of its two production facilities, Lucas Oil is able to use its in-house formulas to blend and bottle every product, and ship them around the world. The California facility handles distribution to Asia, Australia, New Zealand, South America, and the western U.S., while the Indiana plant distributes to Canada, Europe, Mexico, the United Kingdom, and eastern states.
"Our forte' is making better products for industries and specialty situations that are not having their needs met by other oil products, and believe me, major oil companies have left a lot of weak spots," said Lucas. "We have an excellent staff and a world of technology which we have gained through years of research. Together, we have done a great deal in a short period of time, and we intend to do a lot more."
Under the guidance of Forrest and his wife, Charlotte, Lucas Oil Products Inc. has continued to diversify, with the original California location expanding into a multi-faceted Corporate Headquarters that also houses Lucas Oil Production Studios, the Lucas Oil Racing TV streaming platform, the marketing arm known as Team Lucas, and motorsports broadcast network MAVTV.
Moreover, Lucas Oil Products Inc. as a whole now includes business ventures across a dynamic range of different industries. While the manufacturing of additives and lubricants remains the lifeblood of Lucas Oil, where it serves as the global leader, the company's involvement also extends into agriculture, transportation, television and film production, motorsports, sporting events and venues, sports marketing, live entertainment, and fabrication services. Each of these extensions are a direct result of Forrest Lucas' intrinsic determination to find a solution to a problem, and the steadfast confidence that carried his products business to the top now filters through every other facet of the company.
Lucas Oil Ventures:
While its deep involvement in racing helped put Lucas Oil on the map by providing moving billboards at racetracks and on television screens around the world, its title sponsorship of Lucas Oil Stadium, home of the National Football League's Indianapolis Colts, effectively made the brand a household name. Its presence has only grown further into the mainstream, where endeavors like the inception of Forrest Films opened the door for Forrest Lucas to rub shoulders with Hollywood's elite.
"When I see a need, I have to fulfill it. That desire and that belief helped build a brand that is now widely recognized around the world," added Lucas. "We'll stop at nothing to ensure that we're providing our audience and our customers with the best possible product, whether that's with Lucas Oil or one of our many other ventures. Hard work got us here, and it will allow us to be successful no matter what we set out to accomplish."
The Lucas Oil mantra is simple, "It Works!" That concept not only defines the actual effectiveness of the more than 300 additive and lubricant products in its catalog, but also the passion that underlies its involvement in other commerce. It's a straightforward formula of success focused on developing premium products, with an unwavering commitment to customer satisfaction.
At just 30 years old, Lucas Oil Products Inc. is still a young company, but what Forrest and Charlotte Lucas have achieved over this brief period is nothing short of impressive. Few companies, particularly ones with roots in the automotive industry, can proclaim to have accomplished as much as Lucas Oil has in its first three decades, but the story of this homegrown American brand is only just beginning.
About Lucas Oil Products, Inc.
Lucas Oil Products was founded by Forrest and Charlotte Lucas with the simple philosophy of producing only the best line of lubricants and additives available anywhere. Since its inception, Lucas has steadfastly adhered to this corporate objective. Through innovative product research and development, along with aggressive marketing programs, Lucas has established itself as the top selling additive line in the United States. Additionally, Lucas Oil offers a premium line of motor oils, greases, fuel treatments, industrial lubricants, and problem solving additives to help firmly establish Lucas Oil as a prominent figure in the marketplace.
For more information, visit www.LucasOil.com and on Facebook at www.facebook.com/OfficialLucasOil
Source: Lucas Oil Products, Inc.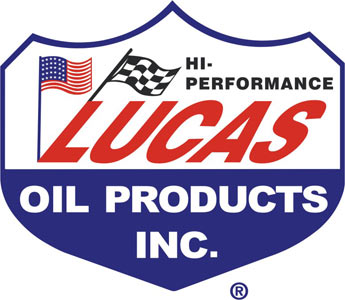 ####