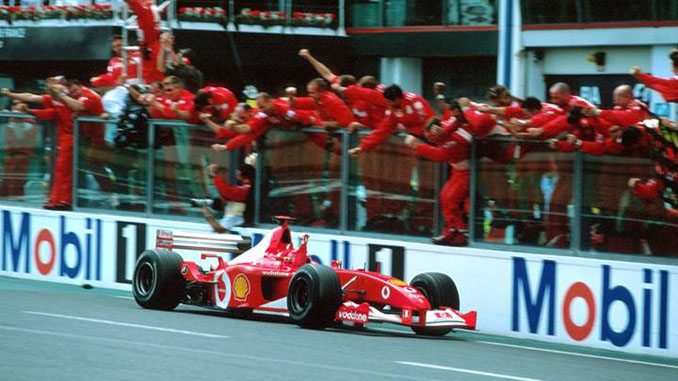 PERCENTAGE OF PROCEEDS TO BENEFIT
MICHAEL SCHUMACHER KEEP FIGHTING FOUNDATION
F2002 JOINS FERRARI F40 SIGNED BY SEBASTIAN VETTEL AT FIRST-EVER
COLLECTOR CAR AUCTION HELD AT ETIHAD AIRWAYS ABU DHABI GRAND PRIX
30 NOVEMBER SALE TO FEATURE MORE THAN 30 CARS AT YAS MARINA CIRCUIT
RM Sotheby's announces early entries for sale held in partnership with Formula 1® at Etihad Airways Abu Dhabi Grand Prix
Sale led by Ex-Schumacher and Barrichello World Championship-winning Ferrari F2002
Driven by legendary driver Michael Schumacher to three Grand Prix wins, securing the 2002 World Championship in record time
Classiche-certified, low-mileage Ferrari F40 signed by Sebastian Vettel at RM Sotheby's and Formula 1® partnership launch in Bahrain also joins the sale
Additional event information and updated list of entries for the sale available at rmsothebys.com
LONDON, ENGLAND – June 18, 2019 – (Motor Sports Newswire) –  RM Sotheby's has announced early featured entries for the company's sale at the FORMULA 1 ETIHAD AIRWAYS ABU DHABI GRAND PRIX 2019, held in partnership with Formula 1® on 30 November. Aligning perfectly with the auction's setting, RM Sotheby's has secured Michael Schumacher Championship-winning 2002 Ferrari F2002 to headline the sale, alongside a beautifully restored, low-mileage 1990 Ferrari F40 signed by 4-time Formula 1® World Champion Sebastien Vettel.
The 2002 Ferrari F2002, chassis no. 219, was a pivotal piece of machinery in the 2002 Formula 1® season, which quickly became a race for second place as the legendary Michael Schumacher finished 1st or 2nd in every race. Chassis no. 219 saw victory in the hands of Schumacher at three Grands Prix in 2002, including at Imola, Zeltweg, and Magny Cours, the last of which would secure Schumacher his 5th World Drivers' Championship title; with six races remaining in the season it remains the shortest time in which a World Drivers' Title has ever been clinched. Ferrari also secured the Constructors' Championship title that year, with the F2002 seeing further podium finishes including 2nd with Schumacher at Monaco, and 2nd at Spa and 4th at Hockenheim with teammate Rubens Barrichello, who finished as runner up in the Drivers' Championship.
Chassis no. 219 was used as a test car in the remainder of the 2002 races and retired following the season. It has since been held in significant private collections across multiple continents. The offering of the F2002 follows RM Sotheby's successful sale of Michael Schumacher's Grand Prix-winning Ferrari F2001 in Sotheby's Contemporary Art Evening Auction in November 2017 for a record $7,504,000. Considered one of the most significant Formula 1 cars and representative of Ferrari and Schumacher's golden era as reigning champions, the F2002 is estimated to bring $5,500,000 – $7,500,000 in Abu Dhabi later this year. A percentage of proceeds from the sale of the F2002 will be donated to the Keep Fighting Foundation, founded by Michael Schumacher's family. The Foundation seeks to continue his charitable work in achieving cultural and social benefits. Additional information on Keep Fighting's efforts and activities is available at keepfighting.ms.
Offered alongside the GP racer is a 1990 Ferrari F40, chassis no. ZFFGJ34B000084467, which appeared at the announcement of RM Sotheby's and Formula 1®'s global partnership at the Gulf Air Bahrain Grand Prix 2019 earlier this spring. At the launch event, 4-time Formula 1® World Champion driver Sebastian Vettel signed the rear wing of the car, ceremoniously uniting the two brands. This desirable non-cat, non-adjust example has been beautifully restored and Red Book certified by Ferrari Classiche and shows a mere 1,140 km from new (Est. $1,500,000 – $1,750,000).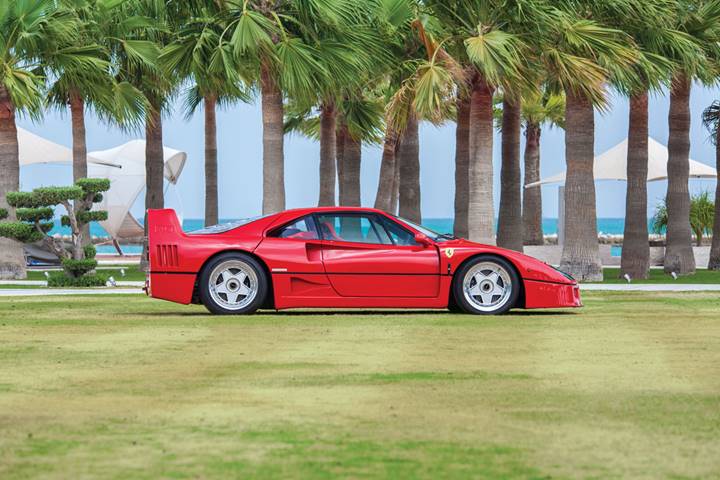 Oliver Camelin, Car Specialist, RM Sotheby's says, "We are delighted to come out of the gate for our inaugural auction in partnership with Formula 1 with such an amazing cornerstone consignment to the Abu Dhabi event. The Michael Schumacher F2002, chassis no. 219, is truly special; it represents one of the last Rory Byrne-designed, V10 era cars and was like a guided missile in acquiring wins on route to a Championship won with sheer racing dominance. As a result, it remains as one of the most dominant Formula 1 racing cars in history and is fittingly joined by the ultimate in Ferrari supercars in the virtually as-new Ferrari F40." Camelin continues, "As we proceed with considering consignments for the Abu Dhabi auction, we look forward to an exciting year in partnership with Formula 1 that will include an RM Sotheby's presence at some of the most notable circuits around the world."
Kate Beavan, Director of Hospitality and Experiences at F1 said, "We are very excited to announce Michael Schumacher's 2002 Championship winning Ferrari as the star lot to be auctioned off at the season finale in Abu Dhabi. Together with the Ferrari F40 signed by World Champion Sebastian Vettel, our first ever auction hosted with RM Sotheby's is already shaping up to be a spectacular occasion. Fans, Paddock Club guests, and bidders will have an incredible opportunity to get up close with these iconic cars and share in the excitement as they are auctioned off. We are proud to be able support Michael Schumacher's Keep Fighting Foundation with proceeds from the sale."
RM Sotheby's ground-breaking auction at the Formula 1 Etihad Airways Abu Dhabi Grand Prix 2019—the region's first-ever major international collector car auction—is set for the evening of Saturday, 30 November at the stunning Yas Marina Circuit. The sale will bring together an expertly curated selection of significant Grand Prix racing machines, such as the F2002, road-going sports cars with an historical connection to the world of motorsport, alongside a broader collection of hand-picked, blue-chip classic and supercars. The auction will take place on the Saturday evening of the race weekend from the first Floor of the Formula 1 Paddock Club overlooking the pitlane. Fans and registered bidders will be able to view the cars to be auctioned over the Grand Prix weekend. The cars will then be paraded down the main straight and driven along the F1 pitlane for auction.
Additional entries for RM Sotheby's Abu Dhabi Grand Prix auction will be available in the coming weeks. For more information, please visit rmsothebys.com. To speak with a car specialist about entering your important motor car in this exciting inaugural event, please call RM Sotheby's London office at +44 (0) 20 7851 7070. For more information about Formula 1 please visit formula1.com.
FOR MORE NEWS FROM RM SOTHEBY'S: #RMSothebys #RMAbuDhabi #RMF1 #KeepFighting
Visit: rmsothebys.com
Follow: www.instagram.com/rmsothebys | www.twitter.com/rmsothebys
Join: www.facebook.com/rmsothebys
Watch: www.youtube.com/rmauctionsinc
About RM Sotheby's
RM Sotheby's is the world's largest auction house for investment-quality automobiles. With 40 years' experience in the collector car industry, RM's vertically integrated range of services, from private treaty sales and auctions (including both RM Sotheby's and RM Auctions events) to estate planning and financial services, coupled with an expert team of car specialists and an international footprint, provide an unsurpassed level of service to the global collector car market. In February 2015, RM formed a strategic partnership with Sotheby's, uniting the two companies for the full calendar of future automobile auctions. For further information, visit rmsothebys.com.
About Formula 1®
Formula 1® racing began in 1950 and is the world's most prestigious motor racing competition, as well as the world's most popular annual sporting series. The 2019 FIA Formula One World Championship™ runs from March to December and spans 21 races in 21 countries across five continents. Formula One World Championship Limited is part of Formula 1® and holds the exclusive commercial rights to the FIA Formula One World Championship™. Formula 1® is a subsidiary of Liberty Media Corporation (NASDAQ: LSXMA, LSXMB, LSXMK, BATRA, BATRK, FWONA, FWONK) attributed to the Formula One Group tracking stock. The F1 logo, F1 FORMULA 1 logo, FORMULA 1, F1, FIA FORMULA ONE WORLD CHAMPIONSHIP, GRAND PRIX, PADDOCK CLUB and related marks are trade marks of Formula One Licensing BV, a Formula 1 company. All rights reserved.
Source: RM Sotheby's
####