The team wins both MotoAmerica Superbike races and Superpole
BREA, CA – April 15, 2019 – (Motor Sports Newswire) –  You couldn't have written a better script for Suzuki for the combined MotoGP/MotoAmerica weekend at the Circuit of the Americas. At the biggest motorcycle racing event in America, Yoshimura Suzuki Factory Racing came away with all of the first-place trophies, winning both MotoAmerica Superbike races as well as Superpole.
Alex Rins (left), Josh Herrin (middle), and Toni Elias (right) sweep the weekend at COTA.
Icing on the cake came in the form of Suzuki also winning the MotoGP race, with Alex Rins, giving Suzuki a clean sweep of all the races it participated in this weekend.
Toni Elias got the Texas party started by winning MotoAmerica Superpole aboard his Yoshimura Suzuki GSX-R1000. He then followed up with a thrilling victory in Superbike Race One on Saturday, with a last-lap, last-turn pass on rival Cameron Beaubier, bringing the crowd to their feet.
Toni Elias (#24) swept the crowd off their feet during MotoAmerica's stop in Austin.
Then on Sunday's Superbike Race Two it was Yoshimura Suzuki finishing 1-2, with newest team member Josh Herrin breaking through to score his first win of the season. Elias was second.
Josh Herrin (#2) and Toni Elias (#24) team up to take a strong 1-2 finish in Superbike Race Two on Sunday.
All of that winning added up to Elias extending his series lead to 13 points after four races in the 20-race series. Herrin rocketed up from ninth to third in the standings after collecting a huge cache of points in Sunday's victory.
"It was just a great weekend for Yoshimura Suzuki," said team president Don Sakakura. "It was great for Josh to get his first win with the team, I'm certain more will come. And for Toni to win Saturday's race and finish second, it's just one of those rare weekends where everything came together with the performance of the bike and the riders."
Toni Elias adds to his MotoAmerica victory record.
A roar came up from the crowd on Saturday with Elias' daring pass in the final corner heading to the checkered flag. It marked his second win of the season, and his sixth victory in seven starts at COTA dating back to 2016.
"It is amazing, two wins and two seconds," Elias said of his 2019 campaign thus far. "Our consistency is good. Saturday's race was one that was fun for the fans. Cameron [Beaubier] was so strong, but I was able to get back by him in the last corner and hold on to the victory. Today we finished second even though we had a minor issue, so I am happy with the results. We've added more to our championship lead and you cannot ask for more. Overall a very good weekend."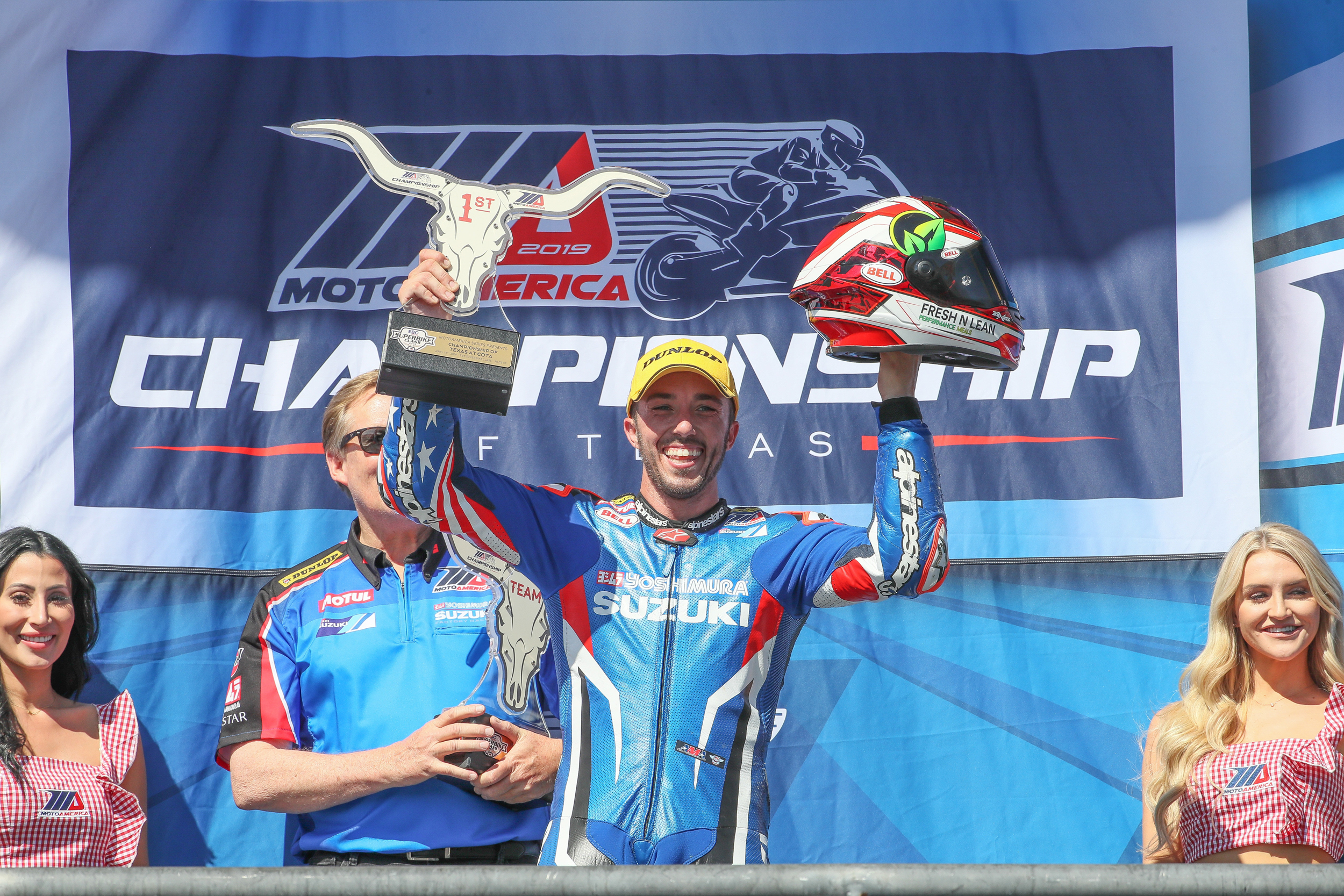 Josh Herrin grabs his first win of the 2019 MotoAmerica season with Suzuki.
Herrin was incredibly excited to get his first win of 2019. It was a tremendous comeback from the troubles he experienced just a week ago at Road Atlanta.
"I didn't expect it to feel this good," Herrin said of Sunday's victory. "I mean I have seven Superbike wins, but this one feels way different. I'm happy to get a win for Suzuki. We took two wins in MotoAmerica and the win in MotoGP, so it's something super special."
Yoshimura Suzuki heads back east to Virginia International Raceway for round three of the MotoAmerica Superbike Championship in Alton, Virginia, on May 4-5. You can watch the action on Fox Sports 2 and special behind-the-scenes views of the series on NBCSN. Check your local listings for showtimes.
For team media guide, click here.
For additional information visit: www.motoamerica.com.
You can keep up with the team's progress by visiting yoshimura-racing.com and www.suzukicycles.com/Racing and via YouTube at www.youtube.com/SuzukiCycles.
About Suzuki:
Suzuki Motor of America, Inc. (SMAI) distributes Motorcycles, ATVs, Scooters, Outboard Motors and Automotive Parts and Accessories via an extensive dealer network throughout 49 states. Suzuki Motor Corporation (SMC), based in Hamamatsu, Japan, is a diversified worldwide manufacturer of Motorcycles, ATVs, Scooters, Automobiles, Outboard Motors and related products. Founded in 1909 and incorporated in 1920, SMC has business relations with 201 countries/regions. For more information, visit www.suzuki.com
Press Contact:
Rachel Anderson
Suzuki Motor of America, Inc. Lead, Press Relations and Marketing
(714) 996-7040 x2009
rachel.anderson@suz.com
About Yoshimura R&D of America:
Yoshimura is "The Leader in Performance" and has been for more than 65 years. With unmatched skills, knowledge, and passion for racing, Yoshimura is on the forefront of the aftermarket exhaust industry. Yoshimura pipes are race bred and feature the same legendary performance, fit and quality that has been their trademark for more than six decades. To learn more about Yoshimura and view their wide variety of performance products, visit www.yoshimura-rd.com.
Press Contacts:
Erick "Big E" Bartoldus
Yoshimura R&D of America, Inc. Marketing Manager
(909) 628-4722 x400
bige@yoshimura-rd.com
Larry Lawrence
Lawrence Media (for Yoshimura R&D of America)
lawrencemedia@hotmail.com
(317) 852-6390
Source: Suzuki Motor of America, Inc.
####