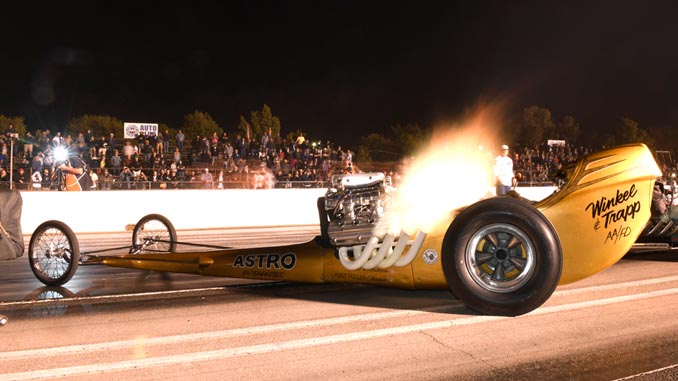 BAKERSFIELD, CA – October 20, 2018 – (Motor Sports Newswire) –  The 2018 California Hot Rod Reunion presented by Automobile Club of Southern California roared to life on Friday with an exciting day featuring more nostalgic side-by-side racing action and classic cars than ever before at Auto Club Famoso Raceway. The three-day event is a favorite among racing fans and car enthusiasts alike.
"The opening day of the California Hot Rod Reunion did not disappoint," said Larry Fisher, executive director of the NHRA Motorsports Museum. "We welcomed fans around the world as the largest competitive field in event history took to the lanes. And classic hot rods filled the pits providing even more nonstop entertainment and killer eye-candy."
A long line of spectators flooded the gates upon opening at 8 a.m., eager to see the first pairs of classic Hot Rod Heritage cars fire their engines on the starting line. The annual swap meet also drew quite a crowd with one-of-a-kind objects quick to catch the eye of savvy collectors and restorers.
Nostalgia Top Fuel driver Mendy Fry, who secured the NHRA Hot Rod Heritage Series 2018 championship in her category earlier this year, landed in the provisional top qualifier position on Friday evening with an impressive 5.60-seconds at 231.44 mph in her High Speed Motorsports dragster. Steven Densham powered his Nostalgia Funny Car to lead the category with an impressive 5.679 at 252.90.
"Give it up to my dad," Densham said of his crew chief and father Gary Densham. "We were lost earlier in the year, and he kinda figured it out. We were able to pick up the pace with better 60-foot times. We had also gotten lost in the clutch. Now we are back."
Low qualifiers in all other categories include: Jeremy Hanger in Nostalgia Pro Mod, Frank Merenda in A Gas, Chuck Moore in AA Gas, Randy Armstrong in B Gas, Jason Barta in C Gas, Ed Carey in D Gas, Dave Lawson in Nostalgia Eliminator 1, Michael Nitz in Nostalgia Eliminator 2, Wes Anderson in Nostalgia Eliminator 3, Lawton Ferreira II in 7.0 Pro, Drew Austin in A-Fuel, Don Enriquez in Jr. Fuel, and Dave Budgett in A/FX.
The California Hot Rod Reunion will continue Saturday with two additional qualifying rounds for Top Fuel and Funny Car and nostalgia racing beginning at 8 a.m. Saturday evening will also feature the famous Cacklefest with crowd-pleasing push starts and displays of dozens of nitro-burning machines.
BAKERSFIELD, CA – Friday's results after qualifying for the 27th annual California Hot Rod Reunion® presented by Automobile Club of Southern California. Qualifying will continue Saturday for Sunday's final eliminations.
The Hot Rod Reunions are produced by the NHRA Motorsports Museum and benefit the facility located in Pomona, Calif. The NHRA Motorsports Museum is a 501c (3) non-profit institution. The Museum's mission is to celebrate the impact of motorsports on American culture. The Museum collects, preserves, exhibits and interprets the vehicles, stories and artifacts that represent America's affection for, and the influence of, automotive speed and style in all its forms.
Source: National Hot Rod Association
####