BREA, CA – August 13,2018 – (Motor Sports Newswire) –  The Autotrader/Yoshimura/Suzuki Factory Racing Team traveled to the famed Unadilla circuit in New Berlin, New York for round 10 of the 2018 Lucas Oil Pro Motocross Championship. Mother Nature unleashed her fury, with a massive rainstorm creating a deluge for the racers. The muddy conditions didn't slow Weston Peick, who scored another top-ten finish on his Suzuki RM-Z450. Teammate Justin Hill was racing with a tender knee, but looked great in practice. However, he re-injured his knee in the first moto and had to call it an early day. In the 250 ranks, Enzo Lopes looked comfortable in the messy conditions on his Suzuki RM-Z250. The Brazilian nearly matched his career-best moto finish in the opening race. However, he was unable to contest the second moto.
Rain, sleet, snow or sunny skies apparently won't affect the outcome for Weston Peick, who gives it his all regardless of the weather. The 27-year-old is a force to be reckoned with. Slogging through the muck of Unadilla, the Southern California native remained consistent in powering his Suzuki RM-Z450 inside the top ten. His 9-8 moto scores for eighth overall stretched his top-ten streak to ten straight Nationals. In fact, he is one of only six 450 riders to score points in every single moto. Peick sits firmly in sixth place overall with two rounds remaining.
It was a miracle that Justin Hill was able to line up for Unadilla. The Yoncalla, Oregon native sustained a knee injury during the second moto at the Washougal round two weeks ago when he went off course and hit a tree. Hill pushed past the pain and looked for another breakout ride on the Suzuki RM-Z450. He qualified eighth and gated well in the first moto. Then, without warning, he caught his injured knee in a rut and had to retire for the day. Hill hopes to race the Budds Creek National. He sits 11th in the overall standings.
Enzo Lopes was looking forward to his first full-blown mud race in the U.S. as the Brazilian rookie cut his teeth riding in slick conditions. Lopes looked at home on the historic track, making passes and cutting lines in sections even the most aggressive riders dare not take. Unfortunately, a first lap crash in the first moto pushed him back to mid-pack. From there he dug deep and finished 14th. Lopes was unable to race the second moto after a bike malfunction, which will be diagnosed and rectified this week.
Weston Peick [450 Class, 9 – 8 for 8th Place] – "Unadilla this week reminded me of the second moto at Unadilla last year, where we got a ton of rain and it was very challenging. I tried my best and got out of there pretty happy, considering that I don't have a lot of experience in those types of conditions. I'm sixth in the points standings, and I like Budds Creek, so I'm excited to do the press day and get more track time in."
Enzo Lopes [250 Class, 14 – 40 for 17th Place] –"It was gnarly. In the first practice, I didn't feel the best. We headed out for qualifying and I felt good. It kept raining harder and harder. As soon as we got on the gate for the first moto it was a complete mud fest. I had a good start, but before the Skyshot I ended up crashing. My helmet was so heavy that I could barely see and breathe! Between the motos we had an issue with the bike, and I couldn't race the second moto. That's how it goes sometimes. We will come back stronger for Budds Creek this next weekend."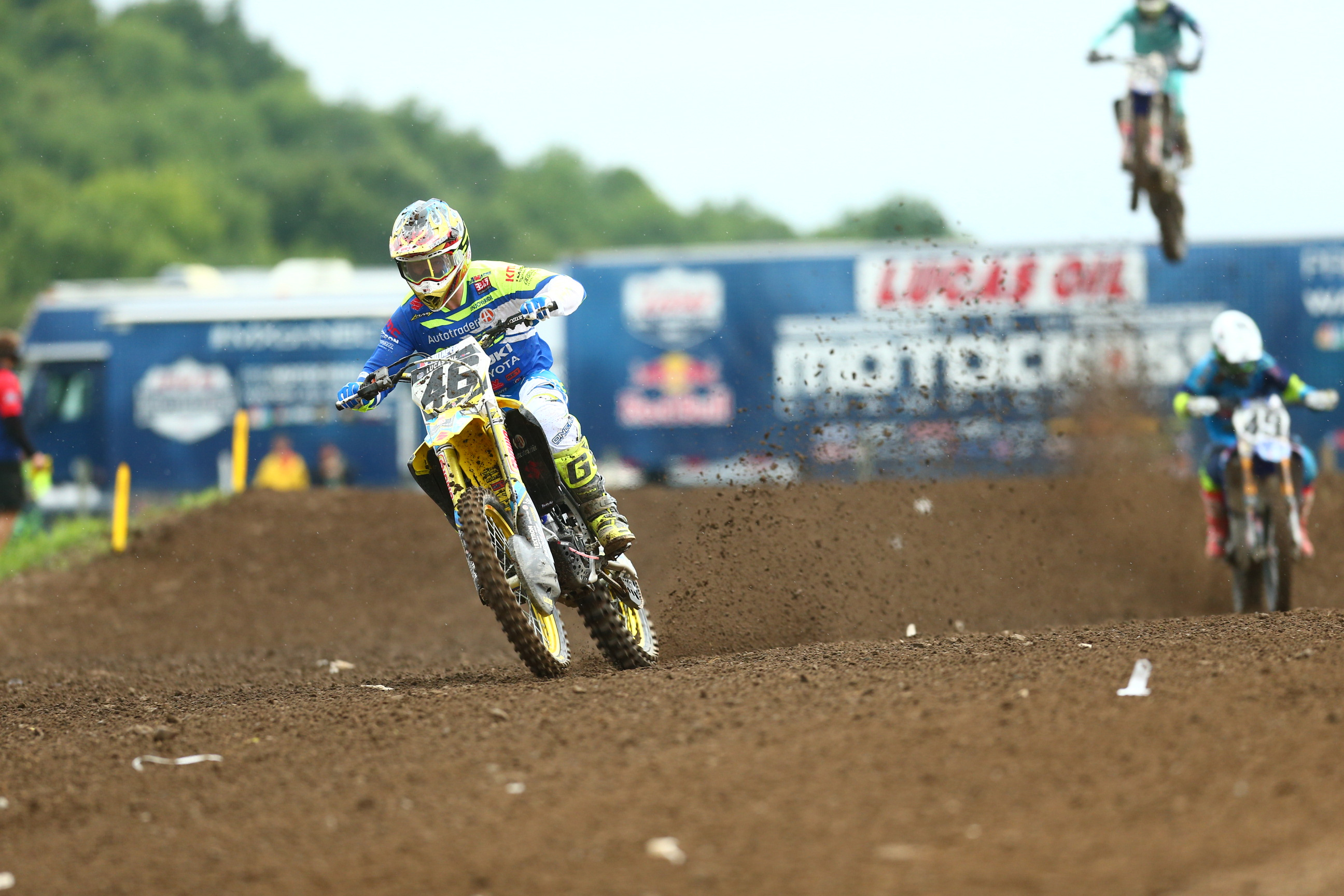 Justin Hill [450 Class, 39 – DNF for 44th Place] – "I felt good in qualifying. Unfortunately, I caught my previously injured leg in a rut in the first moto and that was it. I had to sit out the rest of the day. My goal is to work hard this week to get the swelling out of my knee and line up for Budds Creek. I have to give a big 'Thank you' to my team!"
Jeremy Albrecht [Team Manager] – ""Between the rain in Unadilla and the Seattle Supercross, along with snow at the Indianapolis and Minneapolis Supercross rounds, Mother Nature hasn't been kind to us this year. Still, we're making headway and proving ourselves. Weston Peick continues to show that he's not going to give up, even though his wrist is bothering him. Justin Hill worked hard to get better during the break, but then he stuck his leg in a rut in the first moto and tweaked it. Hopefully he will be ready for Budds Creek. Enzo Lopes had a solid ride in the first moto. There was a small bike problem that we're going to fix this week so that it doesn't happen again. Rain races are always crazy, and this weekend wasn't any different!"
The Autotrader/Yoshimura/Suzuki Factory Racing Team will head to the Budds Creek National in Mechanicsville, Maryland this weekend for the penultimate round of the 2018 Lucas Oil Pro Motocross Championship on Saturday, August 18th. Please visit www.jgrmxraceteam.com for more team news.
Photos by Brown Dog Wilson.
About JGRMX:
Joe Gibbs Racing Motocross (JGRMX), based in Huntersville, NC, was founded in 2007 by Coy Gibbs, son of NFL Hall of Fame head coach and multi-time NASCAR Championship winning team owner Joe Gibbs. JGRMX competes in both the Lucas Oil Pro Motocross Championship series as well as the Monster Energy Supercross series with support from Suzuki Motor of America, Inc. aboard Suzuki RM-Z250 and RM-Z450 race machines.
About Yoshimura R&D of America:
Yoshimura is "The Leader in Performance" and has been for more than 55 years. With unmatched skills, knowledge, and passion for racing, Yoshimura is on the forefront of the aftermarket exhaust industry. Yoshimura pipes are race bred and feature the same legendary performance, fit and quality that has been their trademark for more than five decades. To learn more about Yoshimura and view their wide variety of performance products, visit www.yoshimura-rd.com.
About Autotrader:
Autotrader is the most visited third-party car shopping site, with the most engaged audience of in-market shoppers. As the foremost authority on automotive consumer insights and expert in online and mobile marketing, Autotrader makes the car shopping experience easy and fun for today's empowered consumer looking to find or sell the perfect new, used or Certified Pre-Owned car. Using technology, shopper insights and local market guidance, Autotrader's comprehensive marketing solutions guide dealers to personalized digital marketing strategies that grow brand, drive traffic and connect the online and in-store shopping experience. Autotrader is a Cox Automotive™ brand. Cox Automotive is a subsidiary of Cox Enterprises. For more information, please visit www.press.autotrader.com
About Suzuki:
Suzuki Motor of America, Inc. (SMAI) distributes Motorcycles, ATVs, Scooters, Outboard Motors and Automotive Parts and Accessories via an extensive dealer network throughout 49 states. Suzuki Motor Corporation (SMC), based in Hamamatsu, Japan, is a diversified worldwide manufacturer of Motorcycles, ATVs, Scooters, Automobiles, Outboard Motors and related products. Founded in 1909 and incorporated in 1920, SMC has business relations with 201 countries/regions. For more information, visit www.suzukicycles.com.
Source: Suzuki Motor of America, Inc.
####