76 Percent Sell-Through Sets New High Benchmark at
Six-Day Collector-Car Auction
WALWORTH, WI – May 25, 2018 – (Motor Sports Newswire) – Dana Mecum's 31st Original Spring Classic auction, held this past week in Indianapolis, outdid itself once again with a 24-percent growth in overall sales from just last year, earning it a place in the books as the highest-grossing Spring Classic auction in its 31-year history. The six-day classic and collector car auction brought in $69.4 million in total sales as 1,406 vehicles changed hands for a strong sell-through rate of 76 percent.
Several of the auction's main attractions landed among the top sellers, including an industry-shaking last-minute auction arrival, a 2017 Ford GT (Lot S87) that crossed the block and sold for $1.815 million. Just a few lots later, Keith Busse's Corvette Pace Car Collection (Lot S91) stunned the crowd when it sold in its entirety as a single lot, with all 16 vehicles selling as a set for $1.76 million. A 2011 Ferrari 599 GTO (Lot S103.1) nabbed the third spot among top collector-car sales with a selling price of $561,000.
Two cars from the Jim Street Estate Collection that were under close watch by the Hot Rod and custom-car community shined in the spotlight once again. The famed T-Bucket that started the craze, Kookie's Kar (Lot S114), which brought $484,000, and Street's legendary '50s custom, The Golden Sahara II (Lot S113), which sold for $385,000, were among the most anticipated cars in the auction lineup after spending more than half a century in hiding.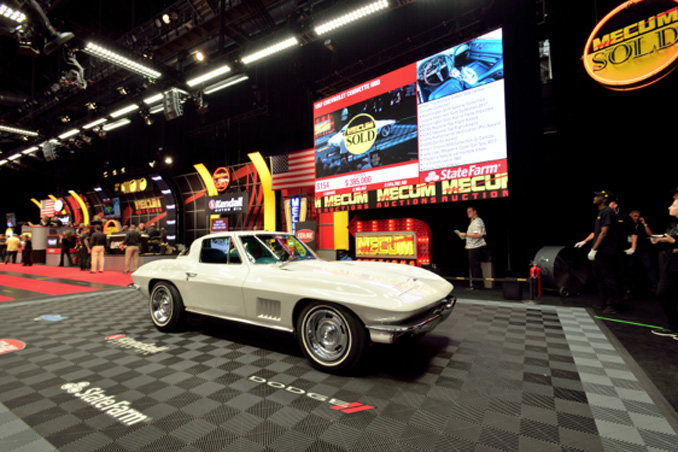 The Richard Cohen Big-Tank Corvette Collection achieved a 100-percent sell-through rate with all five cars selling for a combined $1.82 million. Two of the N03-optioned 'Vettes also achieved places among the top vehicle sales with Cohen's 1967 Chevrolet Corvette N03 (Lot S154) bringing $418,000 and his '66 (Lot S156.1) selling for $412,500.
Road Art, which was offered on its own dedicated stage, also achieved strong sales totals with 92 percent of the 1,206 items hammering sold.
"Sales totals have increased by more than 20-percent for each of the past two years of our Spring Classic auction, and just halfway through 2018, Mecum's growth across the board has already proven to be exponential with similar increases occurring at several of our other annual auctions as well," Consignment Director Frank Mecum said. "It's truly an exciting time to be a part of the collector-car community."
The complete top 10 vehicle sales at Dana Mecum's 31st Original Spring Classic auction include:
2017 Ford GT (Lot S87) at $1,815,000
The Keith Busse Corvette Pace Car Collection (Lot S91) at $1,760,000
2011 Ferrari 599 GTO (Lot S103.1) at $561,000
Kookie's Kar (Lot S114) at $484,000
1969 Ford Mustang Boss 429 Fastback (Lot F119) at $423,500
1967 Chevrolet Corvette N03 (Lot S154) at $418,000
1966 Chevrolet Corvette N03 (Lot S156.1) at $412,500
2006 Ford GT (Lot S122.1) at $396,000
The Golden Sahara II (Lot S113) at $385,000
1967 Chevrolet Corvette Coupe (Lot S118) at $385,000
For access to complete auction results, sign up for the free InfoNet service offered at Mecum.com. Mecum's next collector car auction will be this June 8-9 in Denver at the Colorado Convention Center featuring 600 vehicles on offer. Portland 2018 will follow on June 22 and 23 at the Portland Expo Center with another 600 classic and collector cars. For more details on upcoming auctions, to consign a vehicle or to register as a bidder, visit Mecum.com, or call (262) 275-5050 for more information.
About Mecum Auctions
Nobody sells more than Mecum. Nobody. The Mecum Auction Company is the world leader of collector car, vintage and antique motorcycle, and Road Art sales, hosting auctions throughout the United States. The company has been specializing in the sale of collector cars for 30 years, now offering more than 20,000 lots per year and averaging more than one auction each month. Established by President Dana Mecum in 1988, Mecum Auctions remains a family-run company headquartered in Walworth, Wisconsin. For further information, visit Mecum.com or call (262) 275-5050. Follow along with Mecum's social media news and join us on Facebook,  Twitter, YouTube, Pinterest and Instagram.
Source: Mecum Auction, Inc.
####