LAS VEGAS, NV – May 6, 2018 – (Motor Sports Newswire) –  Troy Lee Designs/Red Bull/KTM's Jordon Smith and Shane McElrath both graced the podium inside Sam Boyd Stadium and ended the 2018 supercross season on a high note. With the showdown race highlighting both the east and west coast riders, the field was deep with talent but the Troy Lee Designs/Red Bull/KTM riders proved up to the task as they collected second and third, respectively. Teammate Sean Cantrell closed out his first supercross season with a solid ride, finishing in 11th.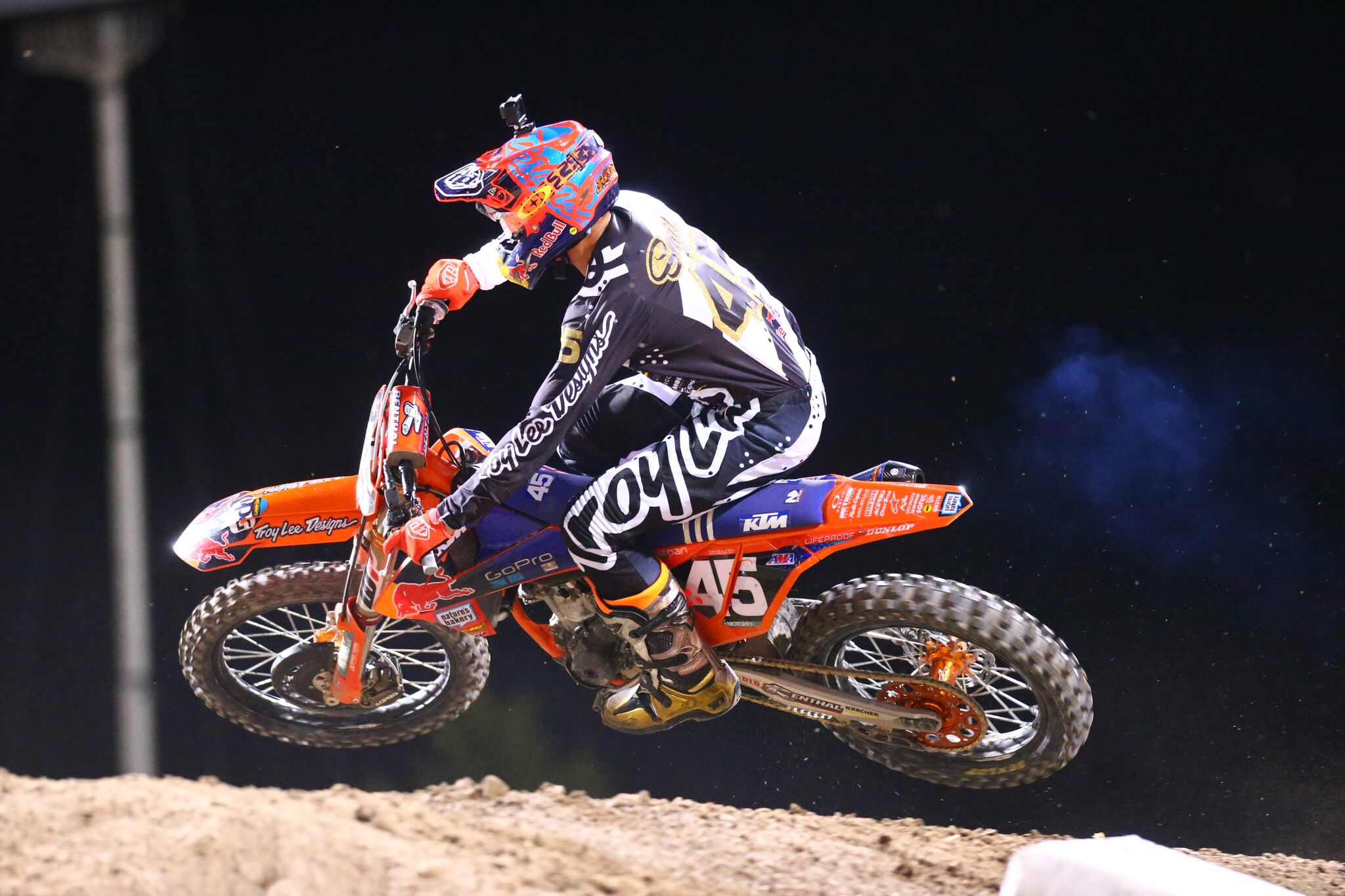 After finishing second in his heat race, Smith was ready to end the season with another top result. Smith was one of the few riders that got faster as the race went on and it showed as he moved from fifth to second in the main event on a tough track. As he picked off riders and moved to second, he solidified second overall in the Eastern Regional 250SX championship.
"We had a little bit of a slow start to the season, but really put in a charge in the end and finishing strong is how I wanted to remember it," said Smith. "I felt really good tonight and it helped when I came out fifth after the start. The track had slick spots and you had to be on it the whole race to make sure you didn't make a mistake that would cost you. It's great to bring home second in the championship, I just wish we were a little closer coming in to put up a fight tonight."
Western Regional 250SX rider McElrath was a force to be reckoned with on the start of the main event, rounding the first turn with his second holeshot of the season. He led the first half of the race before moving into second. McElrath was unable to hold off the advances of his teammate Smith and settled for third on the night and third overall in the championship standings.
"The west coast had some stiff competition so to come out with two wins and two more podium finishes is a good feeling," said McElrath. "I'm thankful we are heading into outdoors healthy and it's time to see what we can do this summer. Every year I want to look back and see that there have been improvements made. I know I still have room to grow, but overall we had a good season."
Cantrell closed out his rookie supercross season with a decent showing in Las Vegas. He got out to a nice start in the main event around seventh and after falling back to 14th, picked up the pace and started to pick off riders. He pushed all the way until the checkered flag to finish just outside the top 10 in 11th.
"It's been a huge learning year and to have some solid showings at the final rounds makes me optimistic for the future," said Cantrell. "Each week I've tried to make sure I was moving forward and these final few races felt like that overall. I'm ready to tackle my second season of outdoors and try to get some career-best finishes."
The final KTM Junior Supercross Challenge of the season was one to remember with battles happening throughout the three-lap race. Cale Stinnett took the early lead and led the opening two laps, but fell in the sand on the final lap. This opened the door for Juan Izaguirre and Vincent Wey – former supercross rider Nick Wey's son – to battle for the win, with Wey edging out Izaguirre at the checkered flag. Stinnett was still able to bounce back from his fall to round out the podium.
The riders were noticeable in the SE Shadow Black and White Jersey and the SE Shadow Black and White Pant. They were also protected by the SE4 Factory Composite Orange Helmet.
See all of the 2018 gear sets and the 2018 Moto Helmets online and at your local TLD retailer.
250SX Class Showdown Main Event Results – Las Vegas, Nevada
Adam Cianciarulo (Kawasaki)
Jordon Smith (KTM)
Shane McElrath (KTM)
Joey Savatgy (Kawasaki)
Jeremy Martin (Honda)
Chase Sexton (Honda)
Zach Osborne (Husqvarna)
Aaron Plessinger (Yamaha)
Brandon Hartranft (Yamaha)
Hayden Mellross (Yamaha)
Sean Cantrell (KTM)
250SX Class Western Region Points Standings
Aaron Plessinger, Yamaha, 211
Adam Cianciarulo, Kawasaki, 209
Shane McElrath, KTM, 193
Joey Savatgy, Kawasaki, 193
Chase Sexton, Honda, 167
Justin Hill, Suzuki, 136
Kyle Chisholm, Yamaha, 134
Mitchell Harrison, Husqvarna, 121
Christian Craig, Honda, 106
Phil Nicoletti, Suzuki, 101
250SX Class Eastern Region Points Standings
Zach Osborne, Husqvarna, 196
Jordon Smith, KTM, 188
Jeremy Martin, Honda, 175
Austin Forkner, Kawasaki, 137
Luke Renzland, Yamaha, 118
Kyle Peters, Suzuki, 112
Sean Cantrell, KTM, 108
Brandon Hartranft, Yamaha, 103
Anthony Rodriguez, KTM, 76
John Short, Yamaha, 58
KTM Junior Supercross Challenge
Vincent Wey
Juan Izaguirre
Cale Stinnett
Luciano Tesene
Finn Shaw
Colton Barber
Sean Veritch
Xander Reed
Robby Ragland
Walker Porter
About Troy Lee Designs
For over 30 years, Troy Lee has been customizing helmets. TLD's relentless commitment to creating products that exceed the cutting edge of style, design and quality, has earned them the reputation as an innovator in many different fields of racing. Troy Lee Designs has since expanded into a full force operation, offering a complete line of helmets, apparel and premium protection for off-road motorcycling and bicycling, sportswear and accessories, and operating the TLD supercross and motocross teams. Based in Corona, California, Troy Lee Designs has a global network of distributors.
About KTM
"READY TO RACE" for KTM, these three words are far more than a simple slogan. They stand for the entire company philosophy of developing vehicles that can without any modifications comprehensively assert themselves in any race. Direct from the dealer onto the track and into the battle for victory. Designers, engineers and riders are bound by a clear common denominator: an unconditional passion for motorcycles. The whole KTM family is a living example of this worldwide. Countless offroad World and European championship titles plus brilliant victories in the world's toughest races (International Six Days Enduro, Dakar Rally, Erzbergrodeo, and many more) all speak for themselves. And KTM Supermotos, Naked Bikes, Superbikes and the X-Bow all demonstrate what an "orange" lead means on asphalt.
Source: Troy Lee Designs
####