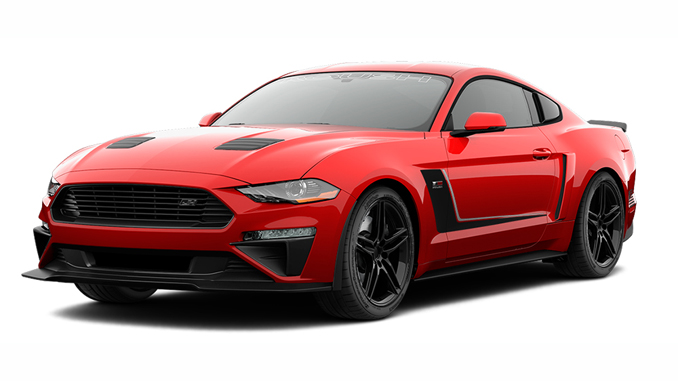 The new 2018 ROUSH JackHammer Mustang comes prepped for 710 horsepower, 610 lb-ft of torque.
PLYMOUTH TOWNSHIP, MI – May 3, 2018 – (Motor Sports Newswire) – New for 2018, meet the special-edition ROUSH JackHammer with a supercharger-prep package pre-installed. Named after owner and motorsports legend Jack Roush, the JackHammer puts down an earth-shattering 710 horsepower when combined with ROUSH's R2650 Supercharger.
"The JackHammer is a great option for enthusiasts who want a thrilling driving experience in a Mustang that looks menacing and produces incredible power," said Jack Roush, Jr., professional race car driver and advanced business strategist for ROUSH Performance. "What makes this model unique is that before the vehicle leaves our headquarters, we install all the necessary components and machine the front engine cover to make it easy to add our R2650 supercharger package."
The 2018 ROUSH TVS 2650 Supercharger unit, which boosts the JackHammer's full potential to 710 horsepower and 610 lb-ft of torque, is installed at the delivering dealership within hours of purchase. The Mustang also comes equipped with high-performance extras, like ROUSH's adjustable coil over suspension and new Continental ExtremeContact Sport tires. Additionally, the car is the only ROUSH Mustang to have standard gloss black wheels, giving it a wicked, sinister appearance on the road and track.
"We engineer American-made vehicles with the raw power, looks and legacy that passionate drivers crave, and with this car named after my father, we made sure not to hold back," said Roush, Jr.
Paired with unrivaled performance, the new special-edition model also features powerful design elements. Usually reserved for ROUSH Stage 3 Mustangs, the coveted hockey stripe adorns the sides of the JackHammer. For further customizability, an optional matte-black top-performance stripe is also available.
The 2018 ROUSH JackHammer is only available with Fastback configurations in both 6-speed manual and 10-speed automatic transmissions. Drivers can use the ROUSH Performance vehicle configurator to choose different options.
"Not only is the JackHammer commanding and aggressively stylish, it comes with an industry-leading warranty," said Roush, Jr. The JackHammer has a powertrain warranty that covers five years or 60,000 miles, which includes the ASE certified dealer-installed supercharger system."
Now available for order, the 2018 ROUSH JackHammer is limited to 200 vehicles.
About ROUSH Performance
ROUSH Performance, a division of Roush Enterprises, designs, engineers and manufactures completely assembled pre-titled vehicles, aftermarket performance parts, and superchargers for the global performance enthusiast market. Based in Plymouth Township, Michigan, ROUSH Performance was founded in 1995 by motorsports legend Jack Roush. Visit us at ROUSHperformance.com or call 800.59.ROUSH.
Source: ROUSH Performance Products, Inc.
####