INDIANAPOLIS, IN – March 24, 2018 – (Motor Sports Newswire) –  Troy Lee Designs/Red Bull/KTM's Jordon Smith put in a great ride in fourth amongst a stacked field as the eastern and western regional classes came together for the first of two showdown races this season. Smith's consistency over the past few races combined with a win in Daytona has put him only 10 points out of the lead with three rounds remaining. Western Regional rider Shane McElrath and his Eastern Regional teammate Sean Cantrell both fell victim to a first-turn pileup. While McElrath was able to make it back up to 13th place, Cantrell suffered another crash late in the race and scored 22nd.
Smith has been on a roll as of late and nearly grabbed another podium finish inside Lucas Oil Stadium. He was able to avoid the first-turn pileup thanks to a great start and near holeshot early in the race. He settled into third, but was overtaken just after the halfway point and held onto fourth, helping Smith to close in on the points leader once again. Each weekend he's been able to pick off points and is now only 10 points out of the lead.
"It would have been nice to collect a few extra points in third, but to keep chipping away is a positive that we'll take tonight," said Smith. "It's not over until it's over and I will do everything I can to make my team proud. We get a few weeks off to regroup but I'm ready to get back out there in Minneapolis and try to close up the points gap."
In his first race back since the Western Regional riders went on break, McElrath started his day strong as the third qualifier. He would go on to finish second in his heat, setting himself up for a good gate pick in the main event. When the gate dropped, McElrath was in good position until a rider clipped a tuff block, causing a chain reaction that stalled the riders behind the block. He came around the first lap in 16th and had to work his way forward through a stacked field, eventually making it up to 13th.
"I really wanted to capitalize on tonight's showdown format, but after getting pushed out on the start it was an uphill battle," said McElrath. "The track was pretty tough, as we expected, but there weren't as many passing opportunities as I'd hoped. It's been a long time waiting to come back and then have a showdown race made it pretty interesting. We'll be ready for Seattle, no matter what the weather tends to throw at us."
As a rookie, Cantrell hasn't experienced the pressure of a showdown format before. He had a tough heat race and was forced to go to the LCQ where he finished second. When the gate dropped for the main event, Cantrell was able to avoid the pileup but still had opening lap troubles and came around in 19th. After a few laps, he got into more of a groove and was moving up, but ended up going down in the latter laps of the race and was tallied 22nd.
"This is a tough year to be a rookie with the triple crown formats and the showdown races, but I'm trying to use every opportunity to learn something new," said Cantrell. "We get a few weeks off and I still have a goal to keep it inside the top 10 for the final few rounds."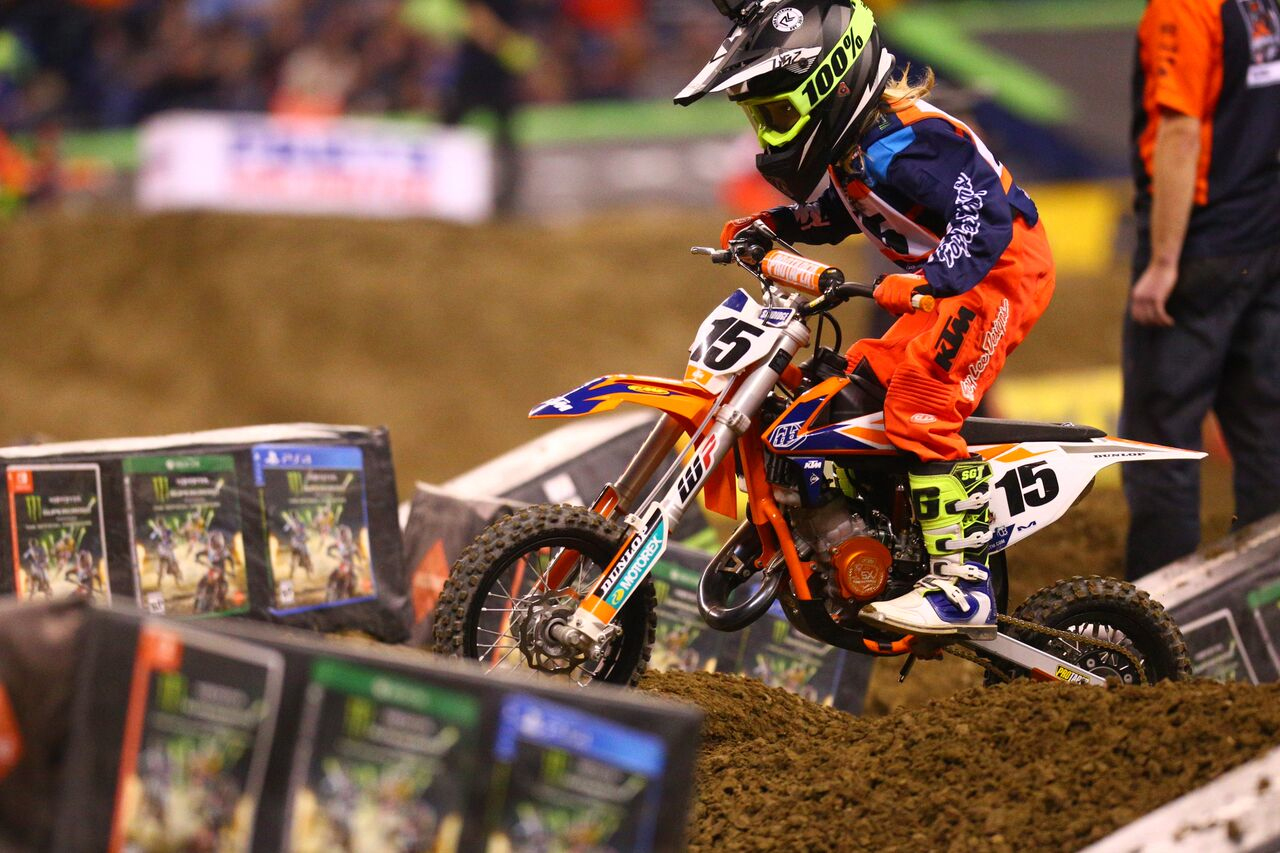 Even with all the excitement around the East/West Showdown, the KTM Junior Supercross Challenge riders put on a show of their own inside Lucas Oil Stadium. Mikey Sandidge got out to the early lead and couldn't be stopped. The same went for the runner-up Grayson Townsend. The big move of the night went to the No. 1 of Austin Meads, who started seventh on the first lap, made the pass for the final podium spot on the last lap.
The three-man squad showcased the SE Air Jersey Metric Navy with the SE Air Pant Metric Navy along with the SE Air Jersey Metric Red and SE Air Pant Metric Red. To make it easy to differentiate the coasts, McElrath wore the Navy kit while Smith and Cantrell wore the Red kit. Both kits were topped off with the SE4 Carbon Helmet Metric Navy.
See all of the 2018 gear sets and the 2018 Moto Helmets online and at your local TLD retailer.
250SX Class Showdown Main Event Results – Indianapolis
Jeremy Martin (Honda)
Adam Cianciarulo (Kawasaki)
Luke Renzland (Yamaha)
Jordon Smith (KTM)
Aaron Plessinger (Yamaha)
Austin Forkner (Kawasaki)
Zach Osborne (Husqvarna)
Kyle Peters (Suzuki)
Phil Nicoletti (Suzuki)
Joey Savatgy (Kawasaki)
13. Shane McElrath (KTM)
22. Sean Cantrell (KTM)
250SX Class Western Region Points Standings
Aaron Plessinger, Yamaha, 151
Joey Savatgy, Kawasaki, 142
Adam Cianciarulo, Kawasaki, 139
Shane McElrath, KTM, 127
Chase Sexton, Honda, 109
Christian Craig, Honda, 106
Justin Hill, Suzuki, 105
Kyle Chisholm, Yamaha, 95
Mitchell Harrison, Husqvarna, 84
Hayden Mellross, Husqvarna, 68
250SX Class Eastern Region Points Standings
Zach Osborne, Husqvarna, 131
Austin Forkner, Kawasaki, 124
Jordon Smith, KTM, 121
Jeremy Martin, Honda, 119
Luke Renzland, Yamaha, 92
Kyle Peters, Suzuki, 85
Sean Cantrell, KTM, 59
RJ Hampshire, Honda, 57
Brandon Hartranft, Yamaha, 57
Colt Nichols, Yamaha, 54
KTM Junior Supercross Challenge
Mikey Sandidge
Grayson Townsend
Austin Meads
Benjamin Brashear
Lane Harden
Jax Ellul
Camdyn Hoyer
Ryder Bloomquist
Colton Toms
Gannon Gates

About Troy Lee Designs
For over 30 years, Troy Lee has been customizing helmets. TLD's relentless commitment to creating products that exceed the cutting edge of style, design and quality, has earned them the reputation as an innovator in many different fields of racing. Troy Lee Designs has since expanded into a full force operation, offering a complete line of helmets, apparel and premium protection for off-road motorcycling and bicycling, sportswear and accessories, and operating the TLD supercross and motocross teams. Based in Corona, California, Troy Lee Designs has a global network of distributors.
About KTM
"READY TO RACE" for KTM, these three words are far more than a simple slogan. They stand for the entire company philosophy of developing vehicles that can without any modifications comprehensively assert themselves in any race. Direct from the dealer onto the track and into the battle for victory. Designers, engineers and riders are bound by a clear common denominator: an unconditional passion for motorcycles. The whole KTM family is a living example of this worldwide. Countless offroad World and European championship titles plus brilliant victories in the world's toughest races (International Six Days Enduro, Dakar Rally, Erzbergrodeo, and many more) all speak for themselves. And KTM Supermotos, Naked Bikes, Superbikes and the X-Bow all demonstrate what an "orange" lead means on asphalt.
Source: Troy Lee Designs
####