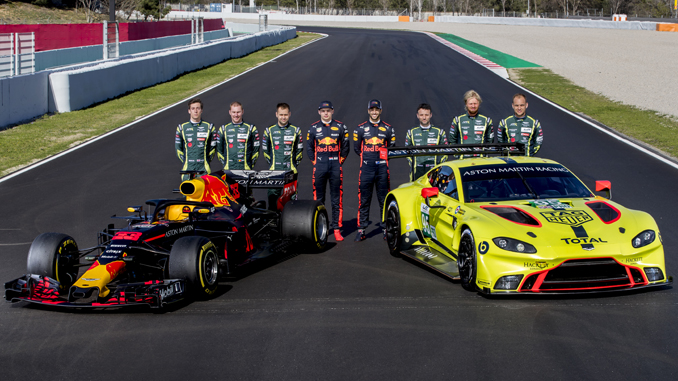 Aston Martin name joins Formula 1™ entry list for the first time in 59 years
New Vantage GTE to debut in FIA WEC at Prologue in April
Ambitious racing programme signals bold future for Aston Martin
Aston Martin Racing will return to the Nürburgring 24 Hours in 2018
GAYDON, UK – March 22, 2018 – (Motor Sports Newswire) –  This weekend's 2018 Rolex Australian Grand Prix marks the beginning of Aston Martin's most ambitious global motorsport programme in more than half a century. For the first time since 1959, the Aston Martin name will appear in both the Formula 1™ and Le Mans 24 Hours entry lists as the British manufacturer takes a vital step in the structured growth of its comprehensive motorsport vision.
Along with an innovative technical partnership that sees the rebranded Aston Martin Red Bull Racing team compete for the 2018 FIA Formula 1™ World Championship titles, Aston Martin Racing will enter an exciting new challenger – the Vantage GTE – in the GTE Pro category of the 2018/19 FIA World Endurance Championship Super Season. Moreover, Aston Martin Racing factory drivers will race customer Aston Martin V12 Vantage GT3s in the Blancpain GT Series and British GT Championships, while the marque will return to the Nürburgring 24 Hours in May*. In total Aston Martin will be significantly invested in 44 races around the world in 2018.
"Racing forms part of the original DNA of the company and this reinforces the message," said Aston Martin's President and Chief Executive Officer, Andy Palmer. "It's in the name, Lionel Martin built and raced his car up Aston Hill, so it's always been part of what we are.
"Extending our association with, and renaming the team, Aston Martin Red Bull Racing  is about seeding the soil for the future. First and foremost, that concerns the Aston Martin Valkyrie and creating the fastest mid-engine car ever. But what it also does is create a fertile ground for when we launch our first core mid-engine car in 2021.
"Secondly, continuing in the FIA World Endurance Championship allows us to demonstrate our quality, reliability and durability. To race for 24 hours and then win, like we did at Le Mans in 2017, helps to sell that message. By going racing we have demonstrated this to the whole world. I think what you are seeing is a much more confident Aston Martin. We're a global force and that reflects on our position in motorsport in 2018."
While the new Aston Martin Red Bull Racing  RB14 that Daniel Ricciardo and Max Verstappen will race in Melbourne this weekend is powered by a 1.6-litre, turbo-charged hybrid engine branded by TAG-Heuer, Aston Martin continues to evaluate whether future F1 regulations might create the right conditions for it to enter as an engine manufacturer in 2021.
"The draft regulations put together by the FIA, I would say, are broadly acceptable to us," said Palmer. "In other words, they are most definitely going in the right direction. And they are drafted in a way which I believe puts more control back with the driver and less with the electronic brain, which is what F1 is all about.
"We don't expect to see the final draft regulations published before the end of the year, but we are preparing our engine concepts so that we don't lose any time. If we get that simplified engine and we get a cap on costs, then that is something that we are very interested in doing."
As winners of the 2017 Le Mans 24 Hours GTE Pro category, and the reigning champions in the GTE Am class, Team AMR has a strong legacy to build on when the 4-litre turbocharged Aston Martin Vantage GTE makes its competition debut in the opening round of the FIA WEC Super Season at Spa-Francorchamps in May. Aston Martin will field two of the new cars in the GTE Pro category, while it will defend its GTE Am title with the iconic normally-aspirated V8 Vantage GTE in its last season of competition in the category.
"The team has done an outstanding job in designing and developing the new car," said Aston Martin's Vice President and Chief Special Operations Officer, David King. "The driver feedback is excellent and we expect to be competitive, but with an all-new car and the Balance of Performance process, we won't know for sure until the racing starts.
"It is great to see more manufacturers coming into the GTE class – it is a sure sign of health in the GT and sports car sector of our industry. The competition is certain to be intense, which is good for the sport and especially for the fans, many of who I hope will be cheering us on throughout the season."
Practice for the 2018 Rolex Australian Grand Prix begins 12:00 (AEDT), Friday, 23 March. The scheduled race start is 16:10 (AEDT), 25 March. The 2018 FIA WEC Prologue takes place at Paul Ricard on 6-7 April, ahead the opening round of the FIA WEC Super Season at Spa-Francorchamps on 5 May.
*Details of Aston Martin's entry in the Nürburgring 24 Hours, which takes place on the 12-13 May will be confirmed soon.
Source: Aston Martin Holdings 
####