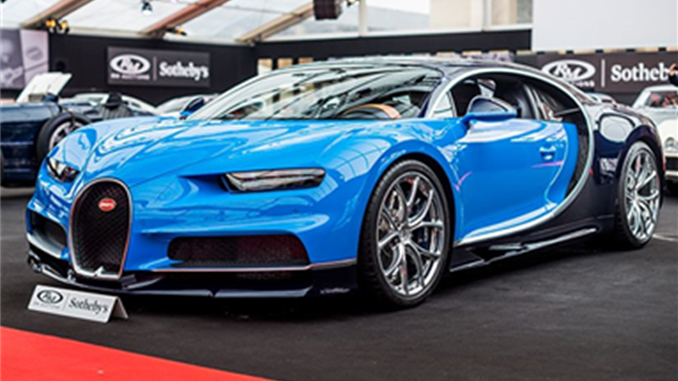 2017 Bugatti Chiron hypercar tops the lots and makes a world-record €3,323,750 at RM Sotheby's 5th Paris sale
Very rare Maserati MC12 brings €2,001,875, while two-owner, highly original 1958 BMW 507 Roadster Series II rounds off the top three, selling for €1,776,875
The successful sale sees bidders from 34 countries and 83 percent of all lots sold to gross a total €23,745,225
Full results list available at www.rmsothebys.com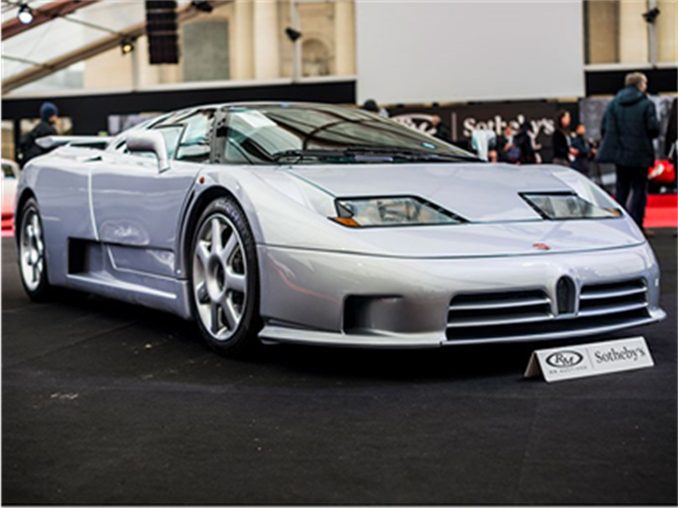 PARIS, FRANCE – February 8, 2018 – (Motor Sports Newswire) –  RM Sotheby's enjoyed a fantastic night at its fifth annual Paris sale (7 February), bringing in a sale total of €23,745,225 with 83 percent of the 84 lots successfully sold. Demonstrating continued interest in low-production modern-era hypercars, the 2017 Bugatti Chiron was the night's top seller, achieving an incredible €3,323,750, while a 2005 Maserati MC12, one of just 50 ever built, took second billing at a final €2,001,875. Proving that blue-chip post-war classics also remain very much in demand, the beautiful and remarkably original 1958 BMW 507 Roadster Series II rounded off the top three, realizing €1,776,875.
Only 500 Bugatti Chirons are slated for production and worldwide delivery, so it's position as a prized collector car will undoubtedly forever be cemented. Launched at the Geneva motor show in 2016, the Chiron is capable of an electronically limited top speed of 420km/h, thrust by no less than 1,500bhp. The car sold by RM Sotheby's in Paris has less than 1000km on the clock and is presented in beautiful Atlantic Blue over French Racing Blue and a brown leather interior. A lucky new owner is taking this ultimate hypercar home at a final €3,323,750, a world-record price for a Chiron offered at public auction. An earlier supercar from the famed French marque, a 1993 Bugatti EB110 SS Prototype, attracted numerous bidders in Paris, selling for a final €1,152,500 to set a new record for the model at auction. Ultra-rare, sporting unique factory modifications and a mere 3,300km from new, the SS is unquestionably one of the most significant of the 36 examples produced.
The 2005 Maserati MC12 is the embodiment of the ultimate hypercar from a decade earlier. With only 50 built, it is not a car that is easy to acquire, so bidding was fierce for the example offered in Paris, a car which led a private collection of six exemplary Italian automobiles, all offered without reserve. In effect, a road-going version of a GT1 racing car, the MC12 has become highly coveted by collectors, and the car offered in Paris achieved a worthy €2,001,875.
Augustin Sabatié-Garat, Auction Manager, RM Sotheby's Europe, said following the sale: "We continue to see immense demand for low production hypercars. They represent the pinnacle of engineering excellence from any given decade, and their place in history and collecting hierarchy is secure. The room was packed and the energy high throughout the preview and auction despite the challenges of snowfall in Paris, and we are delighted with another strong sell through rate and very successful event.
Supercars aside, the market for post-war blue-chip classics remains vibrant. Highlights from this segment were led by the 1958 BMW 507 Roadster Series II; highly original throughout and having had just two German owners from new, including single ownership for more than four decades. The Roadster made a very strong €1,776,875 to round out the top three places. The 507 is regarded as one of the most stylish of all road-going sports cars of the 1950s and remains a market favorite.
Outside of the top sellers, significant prices were achieved across the night in Paris, with standout highlights including the 1958 Triumph TR3A Works Monte Carlo Rally car at €184,000, by far the most valuable TR3 ever sold at auction; a meticulously restored, Classiche-certified 1962 Ferrari 250 GTE 2+2 Series III which soared past its €430/470k estimate to €516,875; a 1988 RUF CTR Clubsport, believed to be the only example in Porsche RS Mint Green, which exceeded expectations at €348,125 (est. €275/325k), an Italian-delivery 'Dealers Collection' 1995 Delta HF Integrale EVO II at €161,000 (est. €90/120k), and a 1977 BMW 633 CSi, owned by ABBA member Björn Ulvaeus, which reached €34,500 at the top end of its estimate.
RM Sotheby's Paris 2018 Top Ten Sales
| | | | |
| --- | --- | --- | --- |
| 1. | Lot 151 | 2017 Bugatti Chiron | €3,323,750 |
| 2. | Lot 124 | 2005 Maserati MC12 | €2,001,875 |
| 3. | Lot 134 | 1958 BMW 507 Roadster Series II | €1,776,875 |
| 4. | Lot 150 | 1993 Bugatti EB 110 Super Sport Prototype | €1,152,500 |
| 5. | Lot 123 | 1992 Ferrari F40 | €933,125 |
| 6. | Lot 165 | 1954 OSCA 2000 S | €792,500 |
| 7. | Lot 128 | 1967 Maserati Mistral 4.0 Spyder | €736,250 |
| 8. | Lot 129 | 1970 Maserati Ghibli 4.7 Spyder | €708,125 |
| 9. | Lot 137 | 1995 Porsche 911 Turbo Cabriolet | €680,000 |
| 10. | Lot 116 | 1954 Mercedes-Benz 300S Roadster | €646,250 |
RM Sotheby's presence in Paris continues through Sunday (11 February) with a display at the world-famous Rétromobile exhibition at Porte de Versailles, where the company is proudly showcasing early highlights for its Monaco sale. On view on the RM stand (Hall 1, Stand M132) is a beautiful 1933 Bugatti Type 51A with extensive pre-war racing history and a totally unrestored 1973 Porsche 911 2.7 RS Lightweight used by Leo Kinnunen. In addition to previewing its forthcoming auctions, RM Sotheby's car specialists will be on hand at Rétromobile to offer collectors a resource for auction and restoration services.
RM Sotheby's continues its 2018 auction calendar in Amelia Island, Florida, 10 March, with the company's next European event being 12 May, with a return to Monaco for its exclusive sale during the Grand Prix de Monaco Historique.
Further information on upcoming events, along with complete results from RM Sotheby's 2018 Paris sale, can be found at www.rmsothebys.com.
*Results are listed in EURO and are inclusive of buyer's premium. Exchange rate used: 1 Euro = 1.245 USD, 0.895 GBP.
FOR MORE NEWS FROM RM SOTHEBY'S: #RMPARIS
Visit: www.rmsothebys.com
Follow: www.instagram.com/rmsothebys | www.twitter.com/rmsothebys
Join: www.facebook.com/rmsothebys
Watch: www.youtube.com/rmauctionsinc
About RM Sotheby's
RM Sotheby's is the world's largest auction house for investment-quality automobiles. With more than 35 years' experience in the collector car industry, RM's vertically integrated range of services, from private treaty sales and auctions (including both RM Sotheby's and RM Auctions events) to estate planning and financial services, coupled with an expert team of car specialists and an international footprint, provide an unsurpassed level of service to the global collector car market. In February 2015, RM formed a strategic partnership with Sotheby's, uniting the two companies for the full calendar of future automobile auctions. For further information, visit www.rmsothebys.com.
Source: RM Sotheby's
####