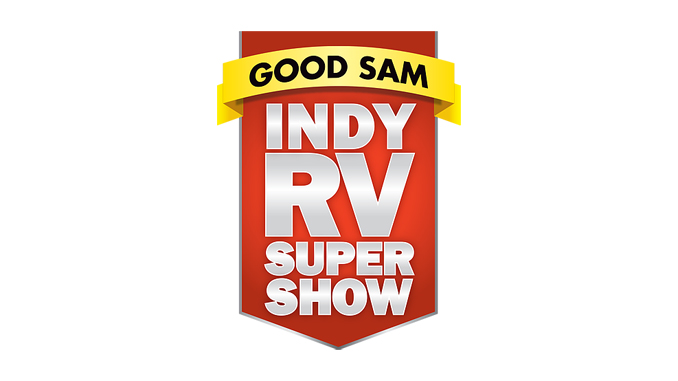 INDIANAPOLIS, IN – December 21, 2017 – (Motor Sports Newswire) – Known as the spectacle of racing, the Indianapolis Motor Speedway will host the nation's only Spring Manufacturer RV SUPER SHOW. More than just a consumer show, this event will feature hundreds of new RVs direct from the manufacturer along with factory chassis displays, suppliers, industry accessories, campgrounds, insurance, and one of the largest displays of outdoor gear ever seen at any RV show!
Whether you are an RV veteran or a first timer, this event has something for everyone. The Good Sam INDY RV Super Show will combine all the best features from shows around the country and bring them back to the back to the heart of the RV industry. Nationally recognized seminars, exclusive motorhome driving school, Dutch oven cooking classes, entertainment, prizes and unique experiences that can only be enjoyed at the Indianapolis Motor Speedway.
"Consumer interest in a lifestyle that focuses on quality of life and spending more time in outdoor activities is growing fast with industry leaders reporting record-breaking shipments of RVs," said Vilma Fraguada, GS Media President of Consumer Shows. "Considering the current trends, we are excited to bring the largest RV get-together to Indianapolis."
The Good Sam INDY RV Super Show will be held at the Indianapolis Motor Speedway, April 12-15, 2018. Show hours are Thursday thru Sunday, 10am – 5pm. Daily admission rate is $12 for adults and children under age 12 are free. Good Sam Club members also receive special pricing for camping, parking and admission when they present their active membership card.
"The Indianapolis Motor Speedway is the perfect location for what will be the only manufacturer spring show and the largest RV get-together in the nation," added Rob Lynch VP of RV Shows at GS Events. "We encourage all campers to register right away to secure the best camp spaces."
All CAMPERS WELCOME! Choose from over 2,000 campsites available starting as low as $99 for RV camping spaces and $49 for tent camping. Register by February 1 and receive a $20 Camping World merchandise certificate. Campers will have exclusive access to exclusive receptions, onsite golfing and racing museum passes.
For more information about the Good Sam INDY Super Show visit www.goodsamindyrvsupershow.com or call 833 RVSUPER. Browse www.gsevents.com for information about upcoming consumer shows.
About GS Media & Events
GS Media & Events, www.GSEvents.com, is a division of Good Sam Enterprises, which owns and operates over 25 recreation-focused consumer shows throughout the United States. GS Media & Events currently produces RV & camping shows, boat & marine shows, and powersports & outdoor shows. GS Media & Events is the premier media and events company serving the RV market.
Source: GS Media & Events
####