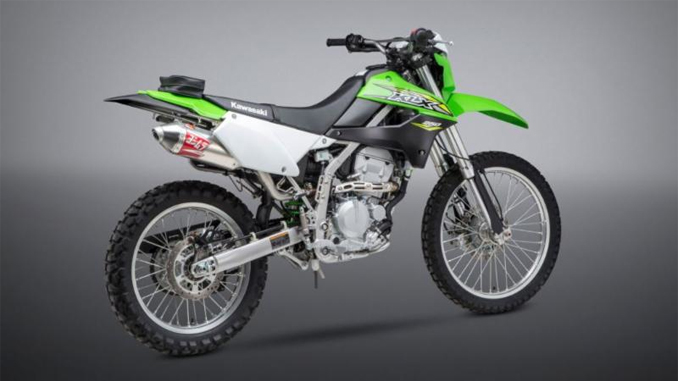 CHINO, CA – November 30, 2017 – (Motor Sports Newswire) – Kawasaki has brought back the popular dual sport KLX250, now with updated fuel injection! The Yoshimura RS-2 slip-on has been updated too, and now incorporates an o2 sensor that accommodates the new fuel technology on the KLX. The RS-2 has a Weight savings of almost 3 lbs. over the stock unit. With added power, torque and that distinct Yoshimura exhaust note, now were talkin'!
Also confirmed is our Fender Eliminator Kit fitment. The current part number fits 2008-2018 model KLX250.
Both proudly made in the USA.
2009-2018 Kawasaki KLX250 with RS-2 Slip-on
2009-2018 Kawasaki KLX250 with RS-2 Slip-on
Our 2008-2018 Kawasaki KLX250 Fender Eliminator Kit
2009-2018 Kawasaki KLX250 RS-2 Slip-on pricing and info
2009-2018 Kawasaki KLX250 Race RS-2 SS/AL
Part # 14301BC350
MSRP: $519.00
QUALIFIED MANUFACTURER DECLARED "MODIFIED PART"
2008-2018 Kawasaki KLX250 Fender Eliminator kit
Part # 070BG143000
MSRP: $139.95
Stock system weight: 8.1 Lbs.
RS-2 Slip-on weight weight: 5.3 Lbs.
Race Series by Yoshimura
-If you're looking for that competitive edge, look no further than our Race Series. These exhaust systems are designed with nothing but power in mind. Each Race Series system is developed in accordance with noise compliance regulations imposed by most racing sanctioning bodies worldwide.
*FOR CLOSED COURSE COMPETITION ONLY; NOT INTENDED FOR STREET USE
**All applications are marked with appropriate EPA noise emissions labels
***Has Not been tested for EPA noise compliance
About Yoshimura
Yoshimura is "The Leader in Performance" and has been for 60 years. With unmatched skills, knowledge and passion for racing, Yoshimura is on the forefront of the aftermarket. Yoshimura exhaust systems are race bred and feature the same legendary performance, fit, and quality that has been our trademark for six decades. To learn more about Yoshimura and view their wide variety of performance products, visit www.yoshimura-rd.com.
Source: Yoshimura Research and Development of America
####