TEMECULA, CA – November 16, 2017 – (Motor Sports Newswire) – The MotoDoffo Vintage Motorcycle Collection is making its return to the Long Beach Motorcycle Show, with a whole new lineup of rare and vintage machines on display.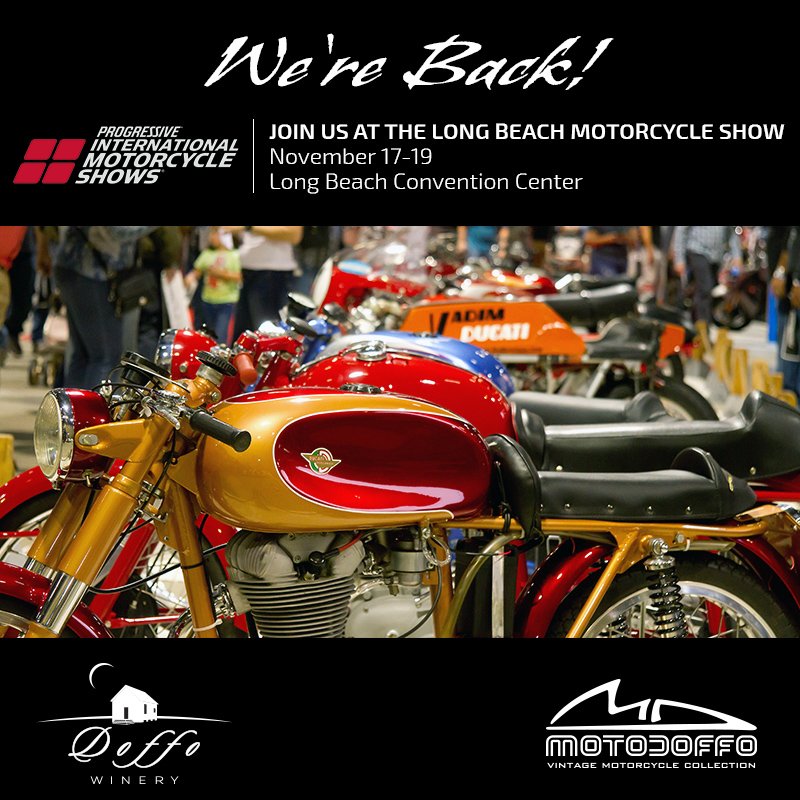 The MotoDoffo Collection made its International Motorcycle Show debut in 2016 with a well-received display containing some stunning examples of Ducati race bikes from the 1950s and 1960s. This year, the Collection returns with more than a dozen motorcycles and scooters never-before-seen on the floors of the Long Beach Convention Center, once again featuring classics from brands like Ducati, Gilera, Velocette, Vincent, and more.
The MotoDoffo Vintage Motorcycle Collection is a private collection of more than 150 rare and vintage motorcycles and scooters and is housed in part at Doffo Winery in Temecula, CA. The Collection, owned and curated by Marcelo Doffo, emphasizes small-displacement Italian motorcycles and scooters from the 1950s-1960s, but contains models from a wide range of manufacturers. The Collection is open to the public during Winery hours.
Attendees at the Long Beach Motorcycle Show will also get a sneak preview of the forthcoming MotoDoffo brand of wines. Drawing on their motorcycle racing roots, the Doffo Family has created MotoDoffo Wines to pay tribute to their heritage as motorcycle collectors, racers and enthusiasts. The first wine is set to release in March 2018, and will feature original label art commissioned from renowned motorcycle and automotive artist, Robert Carter.
To learn more about the MotoDoffo Vintage Motorcycle Collection visit www.motodoffo.com.
About Doffo Winery
The Doffo Family's philosophy has always been that good winemaking begins in the vineyard. The meticulous care and attention that Doffo Winery gives its grapes on a daily basis results in rich, intense wines that can be enjoyed immediately or aged for a special wine drinking experience. A unique feature of the beautiful Doffo grounds is the MotoBarrel Room that is home to barrel-aging wines and the MotoDoffo Vintage Motorcycle Collection. Learn more at www.doffowines.com.
Source: Doffo Winery

####